Sundried tomatoes are a typical delicacy of the South of Italy, especially of Puglia and Sicily. Just to let you know, the "Pachino tomato" is the name of the most famous type of Italian cherry tomato. Its name come from the Sicilian city "Pachino". This makes us aware of the fact that the south is for sure the tomatoes Kingdom!
Drying tomatoes is an ancient culinary tradition, especially in Puglia and Sicily. Formerly, It was done to preserve them for long times. Nowadays, even though we can grow fresh tomatoes throughout the whole year, these preparation is still in high demand thanks to it's rich flavour and health benefits!
Health Benefits
Sundried tomatoes preserve the same properties than fresh tomatoes. They are rich in vitamin C and lycopene. These important antioxidants act against the ageing process of the organism, especially the skin. A lack of lycopene is often related to a higher risk of osteoporosis. They are also a very good source of copper, potassium, manganese, dietary fibre, vitamin A, vitamin B6, folate, niacin, vitamin E and phosphorus.
It is important to underline that sun-dried tomatoes also have some contraindications. They should not be eaten when a tomato intolerance or allergy is alleged, or in the case of heartburn.
How to make Sundried Tomatoes
There are two different sun-dried tomatoes based preparations: the first is "Chiappi" a big tomato cut in halves. The second one is "Capuliato" minced sun-dried to make a wonderful patè. It's essential that the tomatoes are red and ripe. Then, they are cut in halves and placed in a big lattice covered with salt.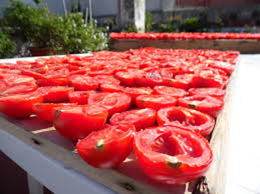 Between June and July, the tomatoes are left under the sun for about 3 days.Then, they are rapidly rehydrated for few minutes in boiling water (this step is important also for hygienic reasons). Afterwards, they need to be place on the lattice again.
For this reason, the weather conditions, the temperature, light and air of Southern Italy make of this, the perfect place to sun-dry the tomatoes and to protect their organoleptic properties.
After three additional days, the sundried tomatoes are put in jars and conserved with sunflower oil and a herbs mixture. This combination of herbs is made with garlic, oregano, basil, fresh chilli capsicum and capers.
To make the "Capuliatu" (patè) it's necessary to dry the whole tomatoes and then to oil them. This process will make them soft. Then, they are seasoned in a bowl with the same herbs and spices than the previous one. Finally, they get finely minced, put in jars, and covered with sunflower oil.
In both cases, twist the tap and taste them after at least one month. The final product will have a fleshy and elastic texture, a dark red colour, and an aromatic scent. It is recommended the use of sun flower oil instead of extra virgin olive oil because the second one can change the unique taste of the sun-dried tomatoes.
Enrich your larder!
You can find a whole range of product made with our succulent, rich and tasty Sun-Dried Tomatoes. The original recipe is very simple and clean, using only sun-dried tomatoes, sunflower oil, wine vinegar, and natural spices. Just made as Italian grandmothers use to do it in the past!
Another product among our favourites is the Sun-dried Tomato Pâté, a versatile tomato based spread enriched with sun-dried tomatoes. One of my favourite recipes is adding few spoons of the sun-dried tomato paté to my tomato sauce when cooking pasta. It gives a light and unique boost of taste to the sauce and it makes it irresistible. It is also perfect as a spread on tarallini, bruschetta and crostini. An ingredient in salad dressings, stews and soups; and it is fantastic with scrambled eggs.
Last but not least. Here is a perfect combination for spicy-lovers: "Pronto" Ready Spaghetti, a recipe enriched with olive oil, basil, garlic and hot chilli pepper. Inspired by the famous Italian pasta dish: "Spaghetti, Garlic, Olive Oil and Hot Chilli"!
The taste is perfect; not too hot.. but just right! Just heat sauce slowly in a saucepan, mix with pasta and serve. It is also wonderful for marinades, as a sauce for meat or fish dishes, a spread for sandwiches, tarallini and bruschetta, and to dress salads, soups and stews as well.