Here's a recipe from a member of our team, Mirna. I think you will like it even if is not an Italian recipe. Aubergine caviar can be used as a dip or spread, as an appetizer or starter. It is a simple and light vegetarian recipe.
But did you know that aubergine caviar is just the English translation of Baba Ghanoush, a Middle Eastern dish? And that baba means father while ghanoush means pampered or spoiled? Put together, baba ghanoush means "pampered daddy" or "spoiled father". History even has it that this delicious dish might have actually been invented for the Sultans of long ago!
And now, here's Mirna's recipe:
How to Cook Aubergine Caviar or Baba Ghanoush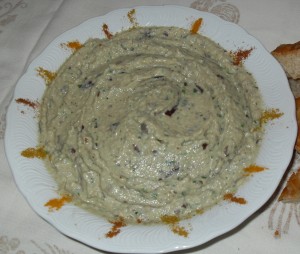 1 large or 2 medium aubergines (you can also use violets, but the flavor will be more delicate).
1 cup natural yoghurt (the Greek one is perfect)
2 tablespoons Extra virgin olive oil
2 tablespoons tahini
1 teaspoon Lemon juice
a handful of parsley
1 small clove garlic
salt and pepper
Preparation:
Preheat the oven to 170 degrees and prepare a baking dish with parchment paper.
Wash the aubergines, cut the tips and make 4 or 5 cuts along their length (important). Drizzle with a little  Extra Virgin Olive Oil and put them in the oven.
Bake for about 35-40 minutes or until the aubergines are cooked. Let them cool well (even overnight in the refrigerator).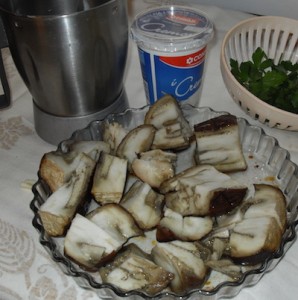 Cut the aubergines into large pieces. Put them into a food processor or a blender, add the parsley, and blend (not too much). Add the yogurt, garlic, Olive oil and lemon juice. Season with tahini, salt and pepper according to your taste. You can add spices to your liking (for decoration I always put some sweet paprika, curry and cumin – see photo). I serve it as an appetizer, with crusty bread, focaccia or tarallini. Leftover Baba Ghanoush keeps in the refrigerator for up to 3 days.
Suggestion: The Tahini is essential for this recipe, but add it a little at a time, especially if this is  your first time to use it. I use the "delicate" type that's available in all health food stores. You can blend it more or less, depending on your taste.
Enjoy a dish fit for a king!