Today I'm going to give you a PERFECT RECIPE FOR SUNDAY LUNCH!
You will find out that it is not really light, but it is tasty and very healthy anyway. Well, anybody is allowed to break the diet rules sometimes! 😛
This recipe uses Paccheri, a really rich, very typical shape of Italian pasta. I always suggest using the "Gragnano" pasta, because the quality of this brand is the best.
Paccheri can be used in several ways, in addition to the usual one which is just mixing them with your favourite dressing. In this recipe, the paccheri will be filled and served as a sort or tiny cannelloni, and put upright. They are not just delicious, but also beautiful to serve to your guests and relatives.
I hope you will enjoy them! Let's begin with my:
Autumnal Paccheri Filled with Sausage, Radicchio and Leek!
Ingredients for 4-6 people: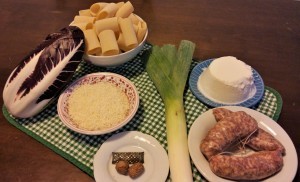 First, put the paccheri in boiling salted water and let them cook for half of the cooking time suggested on the package of the pasta.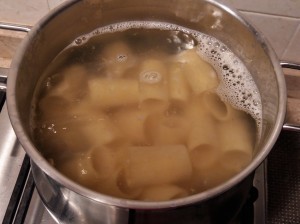 Meanwhile, let's prepare the filling.
Take the leek. With a sharp knife, remove the dark green leaf end and discard. Thinly slice the leek into rings and discard the root end. Put the rings in a pan with a little bit of oil and let it cook slowly for 10 minutes on low heat.
dating rulebook austin singles
Then, slice the radicchio and add it to the pan with the leek.
Crumble the fresh sausage meat and, when the radicchio browns, add it in the pan. Raise the heat until the sausage becomes toasted.
Then, remove the pan from the heat and let it cool down.
Drain the paccheri and put them in a large bowl. Add a little bit of oil, so the paccheri won't stick together, while you finish your preparations.
In a second bowl, mix together the ricotta, 60grams of grated parmesan and a pinch of grated nutmeg, to obtain a smooth texture.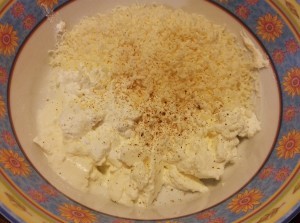 Add the mixture of sausage, radicchio and leek and stir all together. Add salt and pepper, if needed, but be careful, because the sausage meat is usually already seasoned.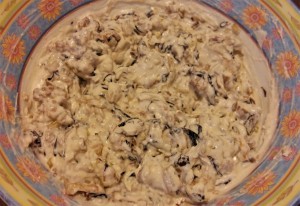 Pour on the bottom of an oven pan half of the white sauce. It will be useful to firmly hold the paccheri standing up.
Begin to place the paccheri in the oven pan: they should be upright and concentric. Fill the entire pan with the paccheri.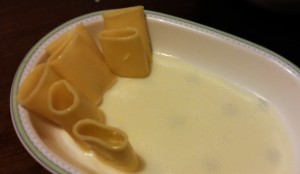 Fill a sac-à-poche with the mixture of ricotta and sausage, and fill every pasta piece with it.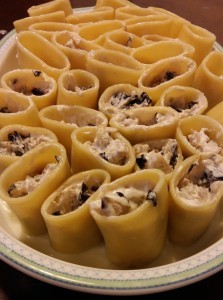 Finally, pour the remaining white sauce and the grated parmesan on top, and bake it in the oven for 30 minutes at 180°degree.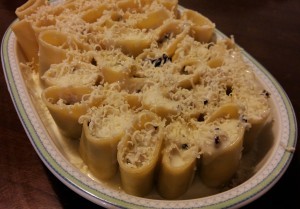 Yummy!!! Already done! Enjoy and…. Buon Appetito!!