Summer is the perfect season to visit your local farmers' market. You'll find juicy tomatoes, zucchini, lettuce, and—of course—tons of cucumbers. If you are inspired by the piles of colorful vegetables, you will find some ways to make the most of summer's finest fruits and greens.
Last week we visited the local market and found some fresh cucumbers that inspired this summer salad. It is super easy, fresh, and healthy, perfect for a hot summer day. It is also a good "last minute recipe," when you only have a few minutes to get dinner (or lunch) on the table. The trick is to keep your pantry stocked with healthy staples, like Balsamic Vinegar Condiment (e.g. Acino Bianco). Add some freshly picked up cucumbers, chive, tomatoes, one avocado, and fresh salmon: that's it!
Regarding health: "Some studies find that balsamic vinegar has health benefits (ranging from improving a person's complexion to lowering cholesterol and aiding weight loss)". Source here.
Ingredients for 4 people: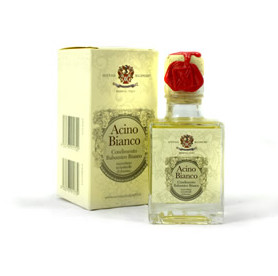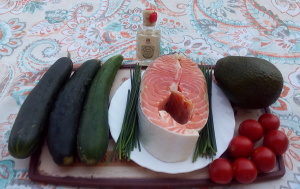 Equipment:
1 mixing bowl, 1 serving dish, 1 chopping board, 1 knife, 1 saucepan
Procedure:
Put salmon into a saucepan, cover with water and boil until cooked ( it takes about 25 minutes). Add salt at the end. Once cooked remove from water, set aside cooling down.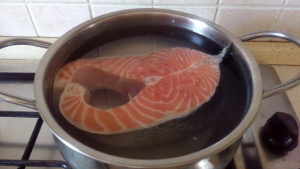 When completely cooled, remove skin, bones, and obtain two large slices.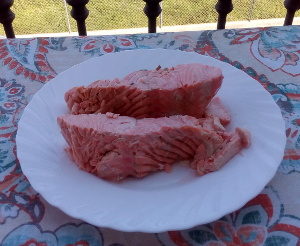 Wash cucumbers thoroughly, cut off the ends, peel, and chop into chunks – triangles and wedges.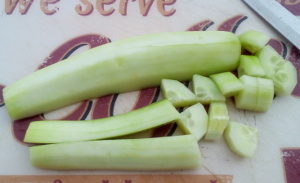 Peel avocado, remove pit, and chop into chunks.
https://cookwithgusto.com/flirt-edmonton/
Wash tomatoes and cut into four pieces.
Cut chive.
https://cookwithgusto.com/korean-dating-apps-in-usa/
For the dressing, put into one cup: White Balsamic Condiment, salt, pepper, and olive oil. Mix and set aside until ready to serve.
Take a serving dish and prepare one layer of sliced cucumbers.
what to expect when dating a man with adhd
Add one layer avocado, 5 or 6 pieces of sliced tomatoes, and some pieces of salmon (last layer). Put chive and dressing on top.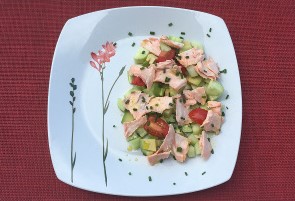 Serve immediately and enjoy the crunchy freshness!