Baked aubergines with tomato and cheese is an easy and satisfying vegetarian second course.
Loading…
Aubergines together with quality extra virgin olive, basil, melted cheese, and peeled tomatoes create a mouth-watering mix of flavours. While they cook they will fill the kitchen with an irresistible aroma.  (Open the windows and you can share it with people in the street… as has happened to us!)
Ingredients for 3 people
Medium aubergines 3
Peeled tomato 1 can
Provolone cheese (or light Cheddar, emmenthal, mozzarella, or Edamer) 200 gr.
Grated pecorino (or grated Parmesan or Grana Padano) 2 tbsp
Dried oregano 1 pinch (or a sprig of fresh oregano)
Fresh basil 1 bunch
Parsley a bunch
Extra virgin olive oil "Il Vero"  2 tbsp
Fine salt and pepper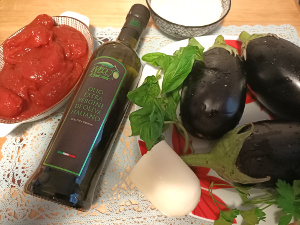 Equipment
1 baking pan, 1 chopping board, 1 knife.
Preparation
Start by carefully washing the aubergines under running water and drying them with kitchen paper. Then remove the stalk and cut them in half lengthwise.
Score the pulp side of each aubergine with a knife on the diagonal to create a grid pattern.  The cuts should be deep to help the aubergines absorb the flavours while cooking, but not all the way to the skin. Season each aubergine with salt, pepper, and oil making sure that it penetrates well into the cuts.
Transfer the peeled tomatoes to an oven dish and mash them with a fork (or with your hands), season them with a spoonful of oil, fresh basil, oregano, and salt, then lay the aubergines on top, skin-side down.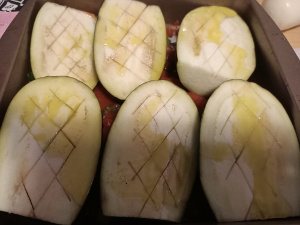 Bake at 220 ° C for 15 minutes, then remove the dish from the oven and turn the aubergines upside down to flavour them with the tomatoes.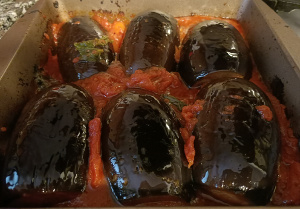 Bake for another 15 minutes.
Remove the dish from the oven, and turn the aubergines again so they sit skin-side down. Sprinkle the aubergines with the diced cheese and the grated Pecorino cheese, add oregano, the fresh basil chopped with the hands, and chopped parsley.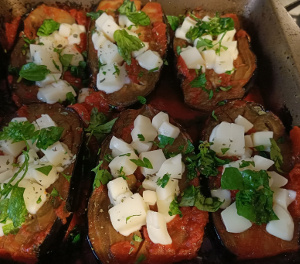 Bake for another 5 minutes until the cheese has melted.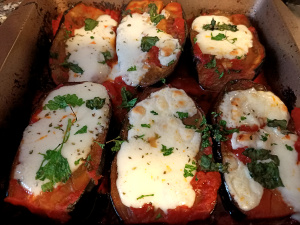 Get ready to taste the Baked Eggplant with Cheese with a nice slice of bread to dip a delicious scarpetta.
why is facebook dating unavailable 2022
Tips
Cooking times may vary according to the size of the aubergines. For example, if they are of the "long" cooking times are significantly reduced (the times above are for medium-sized oval variety). We recommend using high-quality peeled tomatoes; alternatively, you can use the same amount of ripe fresh cherry tomatoes, or our love island uk watch. We recommend using a high-quality extra virgin olive oil, such as our Il Vero Extra Virgin Oil. If you like spicy foods, you can add some chili peppers to the tomato, or a teaspoon of our Hot Chilli Peppers Spreadcream.