Baked Bolognese rice cake
The  "baked Bolognese rice cake" (also called "decorations cake") is a typical sweet belonging to the culinary tradition of Bologna. It was prepared during the "Feast of decorations", a festival established in occasion of the tenth anniversary of a parish. The name derives from the custom families had of hanging colored drapes on their windows to celebrate. The parishioners' houses were open to visits by neighbours and acquaintances. Guests prepared the "rice cake" cut into small diamonds, offering each piece with a toothpick. See here for more info.
This rice cake is typical of Bologna but is also prepared throughout the Emilia-Romagna region.
It is gluten-free.
Ingredients: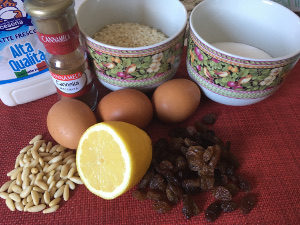 Rice (type Roma, or Arborio) 200 g
Fresh whole milk 750 ml
Sugar 180 g
Medium eggs 3
Raisins 50 g
Pine nuts 50 g
Rum 10 ml (you can use extra milk instead of rum)*
½ Lemon zest
Salt up to 1 pinch
Butter 40 g
Cannella powder ½ teaspoon
*Especially if serving to children
Equipment:
1 bowl, whisk, tart pan, 1 medium saucepan, baking paper.
Preparation:
Soak raisins in rum (or milk).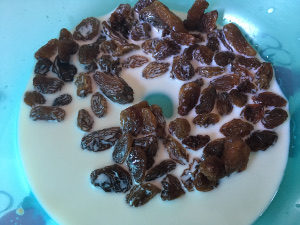 Pour milk and 50 gr of sugar into saucepan and bring to boil over medium heat. When milk comes to a boil, add the rice.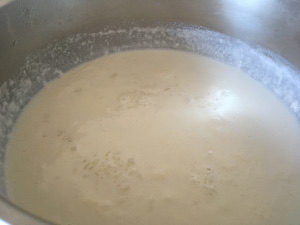 Simmer rice over low heat until it has absorbed all the milk and has a consistency similar to a dry risotto.
Pour rice into a large, shallow container to allow it to cool.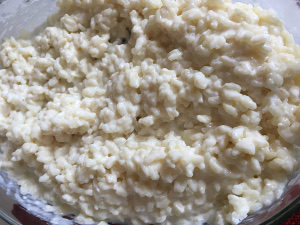 Pre-heat oven to 180 degrees.
Meanwhile, in a bowl, beat the eggs together with remaining sugar.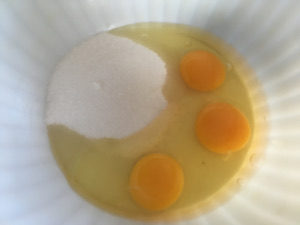 Add the drained raisins, lemon zest, melted butter, 35 gr of pine nuts (reserve 1 tablespoon pine nuts for decorations), and half a teaspoon of cinnamon powder.
Add the now cold rice to the bowl and mix the ingredients well.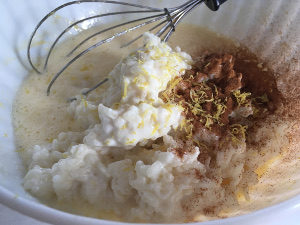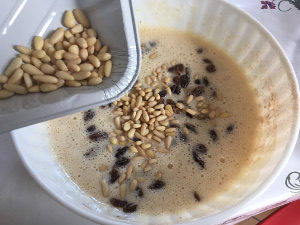 Cover tart pan with baking paper and add the mixture.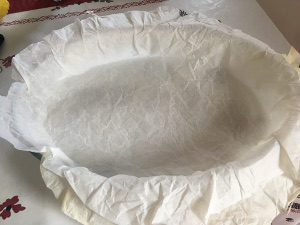 Sprinkle surface of the rice cake with the remaining pine nuts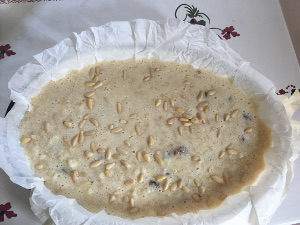 place into oven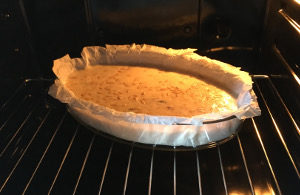 and decrease oven temperature to 160 degrees.  Cook for about 40 minutes.
Raise oven temperature to 180 degrees and cook for an additional 20 minutes, until the rice cake is golden on the surface.
Take rice cake out of the oven and place on a wire rack without removing from the mold.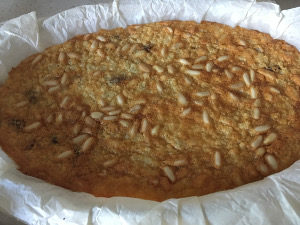 When rice cake has cooled, remove the baking paper and place it on a plate.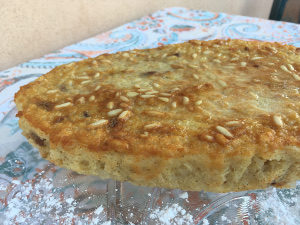 The rice cake is ready – dense and full of flavour, with just the right amount of sweetness!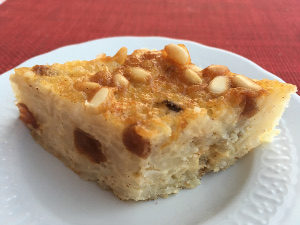 Refrigerate leftovers.