Baked breaded sole with cherry tomatoes
Loading…
Baked breaded sole with cherry tomatoes and asparagus paté is a healthy and tasty second course. The light, egg-free bread-crumb coating produces a crunchy, golden crust on the outside, but keeps them moist and soft inside. The addition of cherry tomatoes dressed with Prelibato rosé, and the asparagus sauce, produces a fragrant and refined dish.
Ingredients for 2 people
Fresh sole 2 fillets (can also use frozen fillets)
Breadcrumbs 60 g
1/2 lemon
Parsley a sprig
Extra virgin olive oil 2 tbsp
Salt
Cherry tomatoes 10 count
Prelibato rosé vinegar 3 tbsp
Asparagus paté 4 tbsp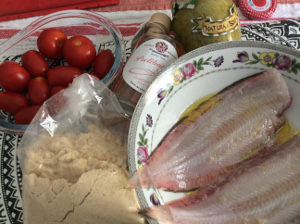 Preparation
Remove the skin from the sole fillets, or ask your fishmonger to do that. Pass them quickly underwater and pat them gently with absorbent paper.
In a dish, mix the juice of a half lemon, a pinch of salt, and 1 tablespoon of extra virgin olive oil. Place the sole fillet in the dish to flavor and coat them well, turning a couple of times.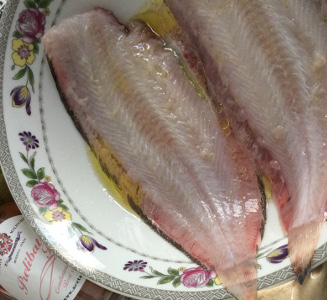 Pour the breadcrumbs on a flat plate and bread the sole on both sides, repeat with the remaining sole.
Place the sole fillets on a baking sheet lined with parchment paper and season with a drizzle of extra virgin olive oil. Bake in a preheated oven at 200 ° C for about 15-20 minutes.
Meanwhile, wash the parsley and chop it. Then wash the cherry tomatoes, cut them into small pieces – concassér cut – then add the vinegar, parsley, and salt, and leave them to marinate.
When the sole fillets are cooked, place them in the center of a flat dish. Then place the tomatoes on one side and 2 tablespoons of asparagus paté on the other side of the dish.
Sprinkle with chopped parsley and serve.
Tips
You can use other fish as you like, for example seabream, cod, and monkfish; just change the cooking times accordingly. For this recipe I recommend using asparagus paté, because it provides a velvety texture that pairs well with the aroma of cherry tomatoes and Prelibato rosé. If you prefer, you can useolder couple dating sites as alternatives.