Mackerel belongs to the blue-scale fish family. Its meat is rich in Omega 3 and for this reason it is particularly good for those who suffer from high cholesterol. It is a very popular fish and very cheap. I think mackerel is not given enough importance, despite all these excellent qualities. The Irish waters are full of mackerel, which is plentiful during the fishing season.
For this recipe, we will combine mackerel fillets with fresh tomatoes, olives, capers, breadcrumbs, garlic and herbs. This dish is both tasty and nutritious. When you eat it, you know you are eating something good.
Baked mackerel (Maccarelli al forno)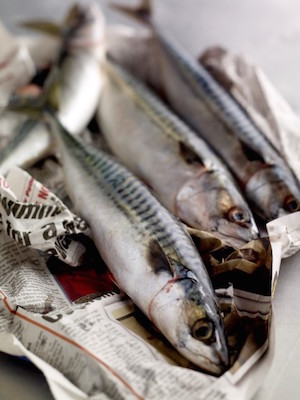 Ingredients
Serves 2
8 x 50g mackerel fillets
1 tbsp salted capers
20 fresh cherry tomatoes, washed and cut into 8 pieces
100g Gaeta, Paranzane or Leccine olives, pitted
10 leaves fresh basil, roughly chopped
2 tbsp chopped flat-leaf parsley
1 tsp dried oregano
2 tbsp breadcrumbs
Extra-virgin olive oil
Sea salt and freshly ground black pepper
Preparation
Pre-heat the oven to 200°C/400°F/Gas 6.
Wash the salt off the capers, dry them with a little kitchen towel and chop them. Place the capers, tomatoes, basil, parsley and olives in a bowl, season with salt, pepper and oregano and then add the breadcrumbs. Mix all the ingredients together.
Line a baking tray with oven paper and place the mackerel fillets, skin down on the paper. Using a tablespoon, coat the mackerel fillets with the mix. Drizzle with extra-virgin olive oil and bake in the oven for 10 minutes. Switch the oven to grill and cook for a further 5 minutes, until the tomato and olive crust is golden brown. Remove the fish carefully from the oven tray trying not to dislodge the crispy coating. Serve while still piping hot.
This recipe will surprise you with its simplicity.