Baked salmon with herbs and walnuts
Loading…
Quick and easy to prepare, this healthy dish makes an ideal main course for the whole family or a dinner party.
Ingredients
Fresh salmon slices 500 gr. (skin on)
fresh mixed herbs (thyme, dill, parsley, rosemary, sage) 4 tbsp
walnut kernels 3 or 4
organic lemon 1
dry white wine 60 gr.
Salt and pepper
extra virgin olive oil 2 tbsp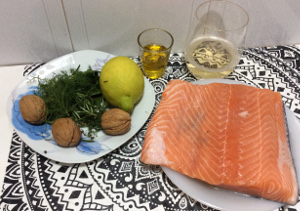 Equipment:
1 baking sheet, baking paper, 1 knife, 1 cutting board, 1 plate, 1 medium sauce-pan.
Preparation:
Mix washed herbs with walnuts, place on a chopping board and chop with a knife.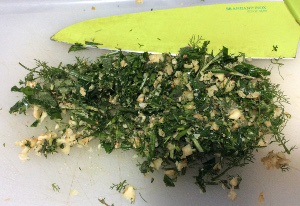 Put the chopped herbs and walnuts in a dish, add the extra virgin olive oil, and the juice and grated peel of half lemon, and mix.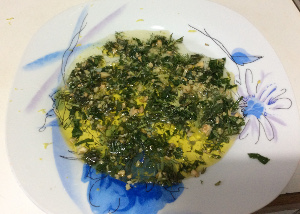 Cut the salmon into 3 slices and place them skin-side-up on a plate to quickly marinate (5 minutes) with the herb-walnut mixture.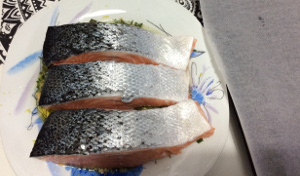 Heat the oven to 180°.
Place the salmon slices (skin side-down) on a baking tray covered with baking paper.
Pour the wine into the dripping pan and the remaining oil mix with the herbs and nuts.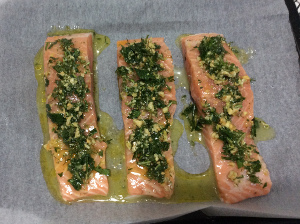 Bake the salmon at 180° for about 20 minutes.
Remove from the oven, plate, and serve while still hot.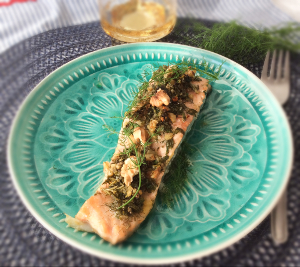 Tips:
You can serve the salmon slices with its sauce or a dash of quality balsamic vinegar, such as Prelibato.