Baked spaghetti roll
For Italians, this week's recipe brings back happy childhood memories.  Our mothers made it with leftover spaghetti, because, well, they never threw out anything!
She would take the pasta and mix it with various things in the fridge – salami, prosciutto, mortadella, different types of cheese.  And always some fresh vegetables.  Then she would add egg, milk Parmigiano, stir it all together, and cook it in a large pan with hot oil.  The resulting "frittata" was crispy outside and soft and moist inside, and we would eat it hot from the pan but it was also good cold later.  It was such a delicious treat that we would even have it at picnics on the beach, cut into thick slices and wrapped in aluminum foil.  Each bite had a slightly different taste and texture – and every now and then you would get a scrumptious piece of spicy salami.
This recipe is similar but cooked in the oven, which makes it easier to obtain a crispy outside without the risky acrobatics involved in flipping large frittatas in a frying pan.  Inside, the result is always a soft center of vegetables, cheese, and prosciutto.
The recipe also gives the instructions for making a wonderful béchamel made with extra virgin olive oil, as well as a nice trick for avoiding lumps.
Baked spaghetti roll
Ingredients
for 1 bread loaf pan of 30 cm: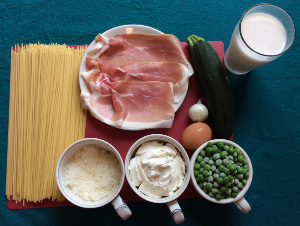 spaghetti 250 gm. (or cooked spaghetti leftovers)
courgette 1
small onion 1
green peas 1 cup (fresh or frozen)
prosciutto 3 slices
Philadelphia cheese 250 gm. (or cream cheese or ricotta)
salt and pepper
butter 10 gm.
breadcrumbs
Ingredients for Béchamel with cheese
fresh milk 250 ml
extra virgin olive oil 20 gm.
flour 20 gm.
70 g of grated gruyère (or Parmigiano or Cheddar cheese)
1 egg yolk
grated nutmeg
salt
Equipment
1 medium saucepan, 2 small saucepans, 1 chopping board, 1 knife, 1 bread loaf pan, 1 bowl.
Procedure:
First prepare béchamel with cheese:
In a small saucepan, warm the milk, but keep 50 ml cold (*important! This is a trick to avoid lumps).
Separately, in another saucepan, mix the extra virgin olive oil and flour. Mix with a whisk. Add the cold milk and stir well until blended. Then add the remaining warm milk.
Put the saucepan on the stove and let it simmer for two minutes until the milk begins to thicken. Add salt and flavour with nutmeg.
Turn the heat off. Add the previously beaten egg and grated gruyere cheese. Mix vigorously and thoroughly with the whisk.
Pour the béchamel sauce into a bowl and let it cool.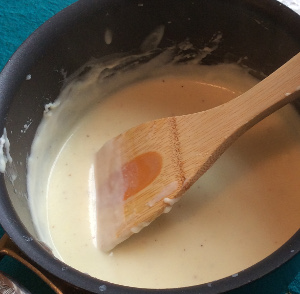 Wash and chop vegetables
Peel onion, chop into small pieces. Put oil in a small saucepan, add onion and cook at low heat. Add green peas.
Wash courgettes and cut into julienne strips, then put into saucepan with peas and continue to cook.  Total cooking time for the vegetables should be about 15 minutes.

Meanwhile cook the spaghetti in salted water and drain when "al dente".
Then mix the spaghetti with the béchamel.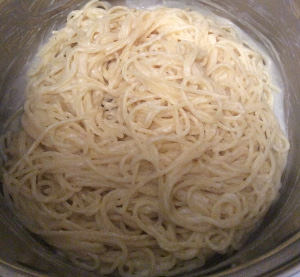 Place spaghetti on baking paper, form into a rectangle and let dry.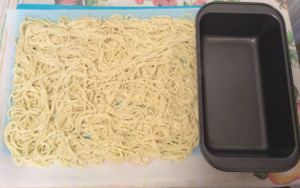 Assemble
Stuff with a layer of prosciutto, a layer of Philadelphia (best to use your hands), then a layer of the courgettes and peas. Leave an empty space on the left, to prevent the filling from spilling out.
Start to roll from the right side and leave the empty side on the left. Your spaghetti will be rolled inside the parchment paper.
Now you can put the roll directly into the bread loaf pan, using the parchment paper instead of oil. Or you can grease the bread pan with butter and breadcrumbs, put the roll inside, then gently extract the parchment paper (the outside of the roll will be crispier in the second version, with the parchment paper removed).
Dab butter and breadcrumbs on top.
Bake in a preheated oven at 180 ° C for 20 minutes or until a crust is formed.
dating site for african american
Your spaghetti roll is ready to be served.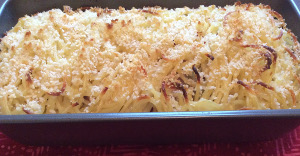 Slice carefully and plate.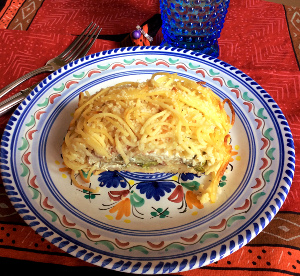 Tips
This recipe is perfect in case you have pasta leftover. If you are vegetarian, you can stuff with green peas, courgettes, mushrooms, artichokes, and other vegetables as you like.
When you cook vegetables, never add salt at the beginning. As you can see in this recipe, adding salt at the end keeps the colour and a better texture of vegetables.
In case you want to cook peas faster, add a pinch of bicarbonate into the pan.
You can replace béchamel with cream, soymilk, or other vegetarian alternative. Use breadcrumbs to get a crispy baked pasta (you can also use panko).