Balsamic, bacon, pine nuts, and apple salad.
Loading…
This salad is my workhorse, and I love serving it to my guests. The colours are bright and it is full of flavour. The combination of sweet apples, tangy balsamic vinegar, and savoury pancetta are always a treat.
You can vary the recipe depending on the season.  For example, you can use radicchio, endive, or other types of lettuce. It is very important to use high-quality balsamic vinegar and ripe apples.
Ingredients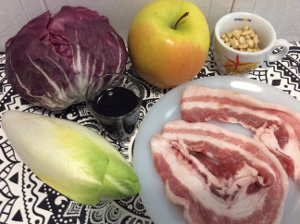 Radicchio ½
Endive 1 (or 2 of endive if you don't find the radicchio)
Fresh or smoked pancetta 50 gr.
Pine nuts 2 tbsp
Ripe apple 1 (red or yellow, see tips)
Extra virgin olive oil 1 tbsp
Salt and ground pepper
Balsamic vinegar of Modena
Equipment
1 non-stick pan, 1 knife, 1 cutting board, a salad spinner or a strainer (to clean and dry the salad), 1 bowl.
Preparation
Clean the radicchio and the endive and cut them into regular strips. Wash carefully and let them drain.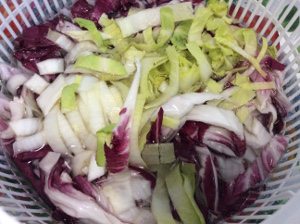 Heat a non-stick pan, and brown the pancetta and pine nuts together for a few minutes, until they are crispy and golden.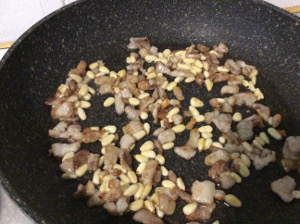 Wash the apple without peeling, and cut it into thin slices.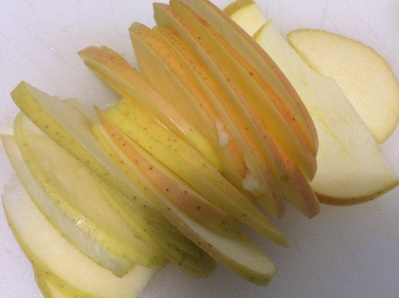 Put radicchio and endive into a bowl, pour the seasoning of pancetta and pine nuts that you have previously prepared.
Add a pinch of salt, a round of balsamic vinegar, and the sliced apples.
Mix everything and serve immediately!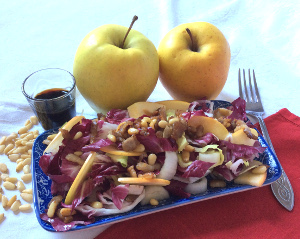 Tips
For a vegetarian version, you can replace the bacon with smoked seitan or smoked tofu. If you like it, you can also use smoked scamorza (or other smoked cheese) instead of bacon.
As an alternative, you can use Red Delicious apples, Pink Lady, Gala, or Fuji. It is important that they are well matured.
In case radicchio is not available, you can replace it with extra endive, or mix the endive with another type of lettuce as you like.
Pancetta with pine nuts can be added to the salad while still warm, or after cooling.