Probably you tasted a good balsamic vinegar from one of our stalls. If you haven't yet, I am telling you not as an Italian, but as a food lover, that it is the best tasting vinegar in the world, when it's properly made.
Open a bottle and you'll fall in love with its unique sweet-sour smell. Put a little on your tongue, and you'll feel its thick, velvety taste.
So yes, if you haven't had this experience yet, tasting balsamic vinegar for the first time is something that you will never forget.
But what is balsamic vinegar, really, and what is it made of? Read on and find out.
What Is Balsamic Vinegar Made Of?
First I want to specify that when I talk of Balsamic Vinegar, I mean the only one from Modena's Area in Emilia Romagna where it has been and is still being produced for the last 400 years.
So the real balsamic vinegar is made of nothing but the purest and non-fermented juice from grapes, also known as must and time. No sugars, no caramel, no thickeners, no vinegar is added to it, which are typically used in the commercial ones.
Now, there are some grape varieties that can be used for making balsamic vinegar, but the one that is most commonly used is the Trebbiano. This grape variety is grown mostly in Modena, Italy.
There are also other varieties of grapes used for making this delicious vinegar. They are Lambrusco, Ancellotta and Sauvignon.
How Is Balsamic Vinegar Made?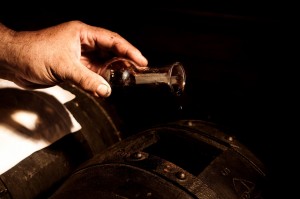 Since the days of my ancestors, the real balsamic vinegar was made by boiling grape juice until it thickens. Then, it is transferred to a wooden barrel into which there is already the previous year's balsamic vinegar. Then, with a slow natural process,  the new must also transform into vinegar. This solution is left to age for several years, even up to a hundred years like the Traditional Balsamic Vinegar of Modena DOP.
The Traditional Balsamic Vinegar of Modena DOP is different from the commercial balsamic vinegar. It is produced in a particular area, obtained from the juice of the Modenese grape, aged for many years (minimum 12yrs) in wooden barrels and bottled by the "Consortium of the producers Antiche Acetaie". This guarantees that it's real because the producer can't bottle his  Balsamic Vinegar as "Traditional". In fact, it is always contained in an official and unique bottle of 100ml, designed by Giorgetto Giugiaro.
And just like wine makers, balsamic manufacturers create their signature taste by using different methods and types of wood that are used for the barrels. The wood barrel can be of cherry wood, oak, juniper, ash, and so on. The wood gives the vinegar its distinct flavour. The barrels of different dimensions or "Batteria" as it's called in Modena, have a hole at the top that allows the vinegar to evaporate during the hot summer months and reduce naturally. These are some of the reasons why authentic balsamic vinegars are expensive.
How about the cheap balsamic vinegar that you find in some grocery stores? They're most likely aged (if aged at all) for several months not in wooden barrels but in cold stainless steel vats. Usually, they are made not only of grape must but is added with vinegar, sugars and other additives.
Uses
It can be used at the end of cooking to finish a dish. It's great for dressing salads, too. Add it to game or sauteed vegetables and you'll make a great tasting dish fantastic. Or try it on vanilla ice cream 😉 More recipes here.

Types
Here are some of our most popular varieties of balsamic vinegar:
Balsamic Vinegar "Saporoso" 6 years old
This balsamic vinegar has an intensely rich flavour that can liven up the taste of any kind of vegetable, either cooked or raw; or on grilled meat or game.  Try it on strawberries when in season. It's made from only Lambrusco Grasparossa and Trebbiano Modenese grape must and aged for six years in oak barrels. It comes from the famous Malpighi family estate.
White Balsamic Vinegar Prelibato
Is the Saporoso too strong for your taste? Then try Prelibato. It is also an original product from Modena Italy. It is made of white Trebbiano grape must, uncooked and aged for 5 years in ash barrel. It has a sweet and sharper flavour that compliments seafoods, shellfish and fruit salads perfectly.
Traditional Balsamic Vinegar of Modena 12 years old
If you want to taste the original balsamic vinegar that made this product famous all over the world, try the Traditional Balsamic Vinegar of Modena 12 years old. This is a Denominazione di Origine Protetta (DOP), which means that all the products and methods used are 100% Modenesi. It complements the taste of strong-flavoured cheeses and meat. The perfect compliment to a delicious Caprese of Buffalo mozzarella. 🙂
Now, which one of these balsamic vinegars have you tried? Which ones would you like to try? Please write your preferences in the comments and let's talk about it!