Breaded Cannonata Cutlets (no fry)
Loading…
We follow the traditional recipe for breaded Cannonata cutlets, with one modification – we replace the egg with cannonata and cold-pressed extra virgin olive oil. The result is a healthy and tasty version that you can easily prepare to surprise and please your guests. If you have children among your guests, you can replace the spicy cannonata with another sauce such as sundried tomato paté.
Ingredients for 2 people
chicken breast cut into 4 thin slices
bread crumbs about 80 grams (you can also use the gluten-free bread crumbs)
cannonata 6 tablespoons
cold-pressed extra virgin olive oil 3 tablespoons
a pinch of fine salt
Optional
Mixed seasonal salad, rocket, and tomatoes.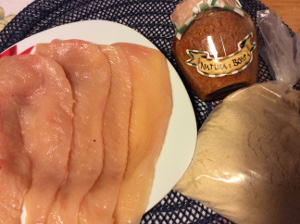 Equipment
1 non-stick pan 21cm,1 sharp knife, 1 bowl, 1 plate.
Preparation
In a bowl mix the cannonata with 2 tablespoons of extra virgin olive oil (keeping 1 tablespoon aside for cooking). Add the chicken and season well, massaging the slices so that the sauce and oil adhere well.
Let it rest and in the meantime pour the breadcrumbs onto a large plate.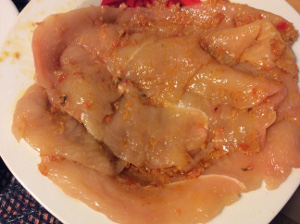 Take a slice of chicken and coat it on both sides in the breadcrumbs. Press well with your hands to make the breadcrumbs adhere well. Repeat with the other chicken slices. Always be careful to cover the whole slice and place them on a plate as you prepare them.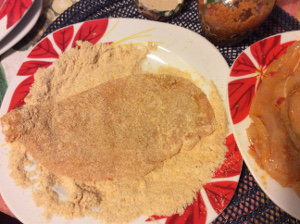 Cook the cutlets until golden brown in a very hot non-stick pan or on a cast iron plate, adding one tablespoon of olive oil. Turn the cutlets once and cook until the other side is golden brown. Since the chicken slices are thin they will only require about 1 minute per side.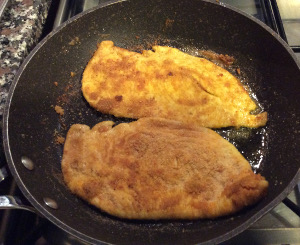 Arrange the mixed salad with rocket and tomatoes on a serving dish, place your steaming cutlets on top, and add salt. You can cut them into strips or leave them whole.
Your Cannonata Cutlets are ready to be served… enjoy this crispy goodness.
dating sites for people with herpes
Tips
You can use khloe kardashian dating or sundried tomato paté as an alternative to Cannonata. If you are a vegetarian or vegan, you can use tofu slices instead of meat. We recommend adding salt only after the cutlets are cooked, to prevent the crust from separating from meat.