Bruschetta with aubergines, rocket, garlic and sundried tomatoes patés.
Loading…
Bruschetta with aubergines, rocket, garlic and sundried tomatoes patés. Are you looking for a tasty dish you can prepare in a few minutes? Here it is! These bruschettas are perfect for the summer, when you need a light and fresh dinner. The bread slices can be served whole or cut into small pieces and can be paired with a fresh summer salad. For a richer taste you can add cheeses or cured meat.
Ingredients
Serves 2
Large aubergine 1
Bread slices 2 large ones (or 4 small ones)
Garlic paté about 5 tablespoons
Sundried tomato paté about 5 tablespoons
Rocket 80 gr.
Extra virgin olive oil 1-2 tablespoons
sea salt & black pepper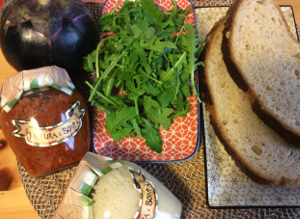 Equipment
1 non-stick pan, 1 serving dish.
Preparation
Wash the aubergines, cut into slices about 1 cm thick, and score them with a diamond pattern for a better and faster cooking. Wash the rocket and drain well.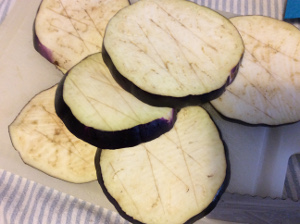 Heat one tablespoon of extra virgin oil in a non-stick pan. Place the aubergines in the pan and cook, turning once (about 3 minutes per side).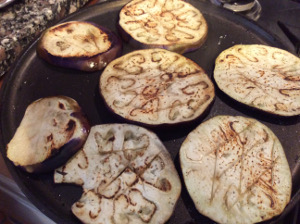 Remove the aubergines and place them in a dish, adding salt, pepper, and a drizzle of oil if needed.
Toast the bread slices in the same pan you have used for the aubergines.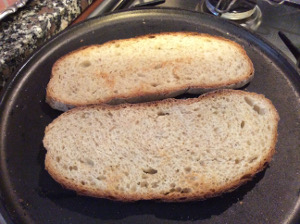 After the bread slices are toasted, cut the aubergines into large chunks.
Spread the garlic paté on one slice of bread, and spread the sundried tomato paté on the other slice.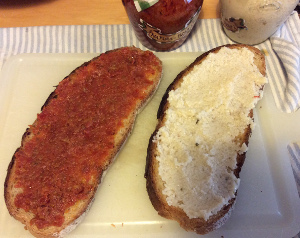 Cover with the pieces of aubergine, add the rocket, and top with a tablespoon of the same paté you spread on slice of bread.
Serve and enjoy!
https://cookwithgusto.com/meetup-naperville/
Tips
You can bake the bread slices in the oven, especially in case you want to prepare bruschetta for more than 2 people. You can do the same with aubergines; just place the slice on a baking pan lined with parchment paper and a drizzle of oil. You can use grilled aubergines or other seasonal vegetables as you like, for example courgettes or bell peppers. You can also mix all of them.
You can use other dips and spreads as you like, such as hookup hotshot compilation or kink dating app. I have used "Pugliese" bread to prepare this bruschetta, you can use other types of bread but be sure to use quality bread.