Cacciucco di ceci – chickpea and chard stew
The "cacciucco" of chickpeas is an ancient Tuscan recipe.
In Tuscan dialect "cacciucco" means mixture. This particular recipe is a mixture of chickpeas, chard, potatoes, and tomato. The result is a savoury vegetable stew – a perfect comfort food – that can be served as a single dish. In fact, in Italy chickpeas are also known as "the meat of the poor" because they are rich in carbohydrates, proteins, fibre, and vitamins.
It is important to use high-quality chickpeas, whether you choose to soak and cook them yourself, or whether you decide to use already-cooked chickpeas.
In this recipe there is no fish, although the word "cacciucco" brings to mind the famous Livornese "fish cacciucco soup".
If you do not add cheese to the toasted bread, then the dish is also vegan.
Ingredients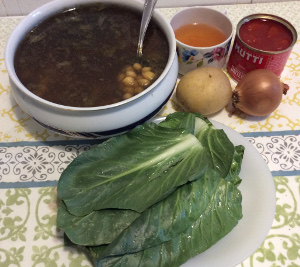 Cooked chickpeas 400 gm. (or 200 gm. of dried chickpeas to soak and cook*)
Chard 1 bunch
Tomato pulp 300 gm.
Potato 1
Onion 1
Extra virgin olive oil 2 tablespoons
Black pepper
Salt
Red chilli peppers (optional)
Tuscan bread 4 slices
Seasoned Pecorino (or Parmigiano cheese) 50 gm.
Extra virgin olive oil 1 tablespoon
Equipment
1 large pot or 1 deep non-stick pan, 1 food processor/blender, 1 chopping board, 1 knife, 1 baking tray, parchment paper.
Method
If you use dried chickpeas*, see instructions at the bottom of this recipe to cook them. If you use precooked chickpeas, begin with the next step.
Drain cooked chickpeas to obtain a puree, blend about 2/3 of the chickpeas with 1 cup of stock (or their cooking water) in the food processor. Set the remaining chickpeas apart.
Wash the chard several times, cut the central rib from the leaves.
Peel the onion and chop with the chard ribs in the food processor.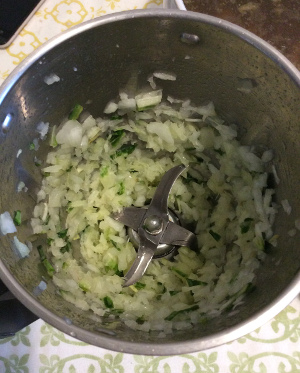 Heat the oil in a pan and gently brown the prepared mixture of chard ribs and onion. Add about a cup of broth and cook 5 minutes.
Chop the chard leaves with a knife. Place them, along with the potato, tomatoes, chickpea puree, and whole chickpeas, in the pan.
Pour the chickpeas cooking water into the pot or add enough stock to obtain a fairly liquid soup. If you like spicy food, now you can add red chillies.
Raise the heat and cook the vegetables for about 20-25 minutes.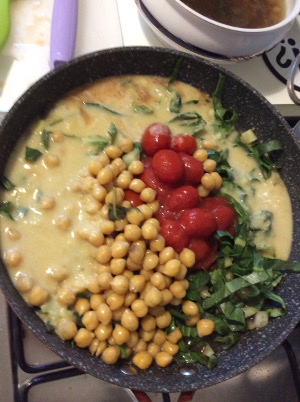 Meanwhile, heat the oven to about 200 degrees.
Place the bread slices in a pan covered with baking paper. Sprinkle with extra virgin olive oil and with grated Pecorino or Parmigiano cheese. Bake until the bread becomes golden.
Complete cacciucco with toasted bread, a drizzle of extra virgin olive oil, and freshly ground black pepper.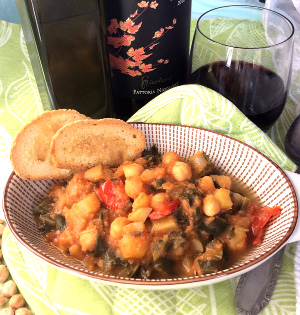 Instructions for cooking dried chickpeas.
* Wash chickpeas, then soak in cold water with a pinch of bicarbonate for 12 hours. Wash, drain, transfer to a pot, cover with cold water, add a few leaves of sage and a clove of garlic. Cook over low heat and a semi-covered pot for about 2 hours.