Carrot cake with extra virgin olive oil
Loading…
This cake requires exactly 15 minutes of preparation before cooking. The raw carrots with extra virgin olive oil and orange peel are blended together to produce a fragrant carrot cream, which is then mixed directly in the bowl with the other ingredients. Then, you just pop it in the oven, cook, and enjoy!
Ingredients
for a 22 cm mold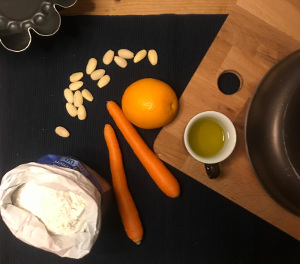 raw fresh carrots 375 grams
flour 195 grams (or 145 grams of flour + 50 grams of almond flour)
potato starch 45 grams
granulated sugar 195 grams (which you can substitute for brown sugar)
extra virgin olive oil 100 grams
eggs 3
grated peel of 1 orange (preferably organic)
baking powder 16 grams
salt 1 pinch
powdered sugar to decorate
Equipment
1 spatula or whisk, blender, 1 cake pan, 1 medium bowl, chopping board, 1 knife.
Preparation
Pre-heat the oven to 180° C.
Peel the carrots, cut them into large pieces, and put them into a blender together with the orange peel and extra virgin olive oil. Blend for 5-6 minutes until they become a smooth cream. Add the eggs and mix again for a few seconds.

Put the dry ingredients – the flour, the starch, the sugar, a pinch of salt, and the baking powder – into a separate bowl and mix them together.
Pour the mixture from the mixer into the flour mixture, and mix with a fork or a hand whisk for a few seconds, until the batter is smooth and homogenous.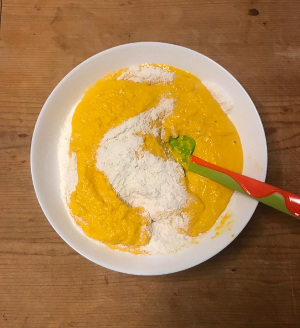 Pour the batter into a well-greased and floured cake pan.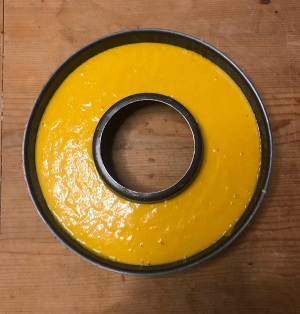 Reduce the oven temperature from 180° C to 170° C. Bake at 170° for 35-40 minutes – the exact time varies depends on the oven.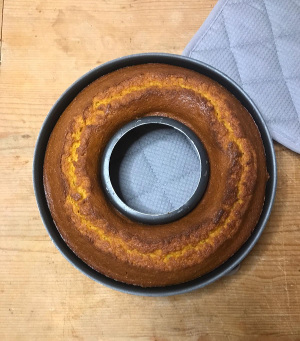 Remove the cake from the oven, let it cool for 15 minutes, and sprinkle with powdered sugar.
Your fluffy carrot cake is ready to be enjoyed!
Tips
You can store the carrot cake at room temperature for 3-4 days, preferably under a cake bell or wrapped in plastic wrap.