Chicken alla cacciatora (cacciatore style).
Loading…
Very easy and delicious, the recipe of chicken "alla cacciatora" is perfect both for lunch and for dinner, and can be prepared in a short time.
Ingredients
carrot 1
onion half
chicken breast 500 gr
flour 1 tbsp
black pitted olives 90 gr
white wine 1 glass
cherry tomatoes 400 gr
rosemary 1 sprig
salt and pepper
extra virgin olive oil 1 tbsp
parsley a sprig
butter 1 tbsp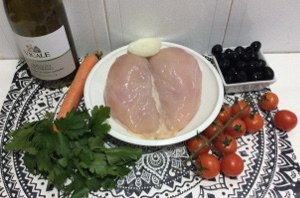 Equipment
Chopping board, knife, non-stick pan, 1 tablespoon.
Preparation
Chop the carrot and onion; place a tablespoon of oil in a non- stick pan and gently cook for one minute.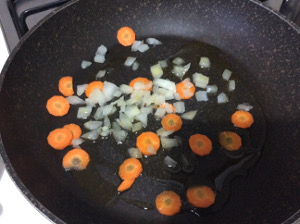 Wash the cherry tomatoes, cut them in two halves, add to onion and carrot.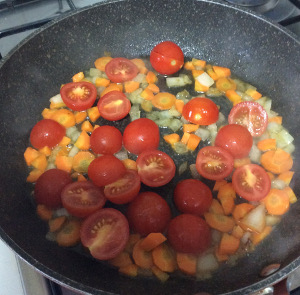 Cook for a few minutes, pour in a plate and set aside.
Put the pan on the stove (no need to wash it), melt butter then add the lightly floured chicken; brown for 3/4 minutes. Add the wine and let evaporate, stirring occasionally.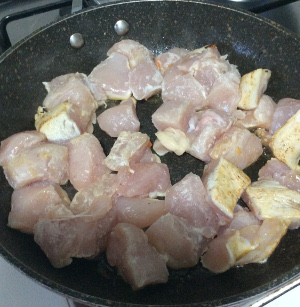 Add the rosemary and the previously cooked vegetables. Cover with a lid and cook for about 15 minutes (if the chicken starts to get too dry add water or stock). Add salt and pepper.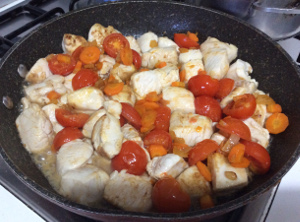 Wash the parsley and mince.
Add parsley and olives, stir for one minute, and serve hot.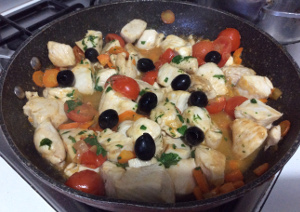 https://cookwithgusto.com/best-christian-dating-sites-uk/
Tips
You can also use tomato sauce, for example what is facebook dating, if you don't have cherry tomatoes
Do not add too much salt because black olives are naturally savory. You can replace olives with mushrooms or peppers, or other vegetables as you like.