Chicken with balsamic vinegar, olives, and pine nuts.
Loading…
A quick idea to enhance chicken breast, this recipe takes about 15 minutes. I have been cooking this recipe for my guests for more than 20 years and everyone likes it.
Ingredients
Chicken breast 300 gr.
green olives 10
pine nuts 2 tablespoons
balsamic vinegar a few tablespoons
flour 1 tablespoon
extra virgin oil 1 tablespoon
salt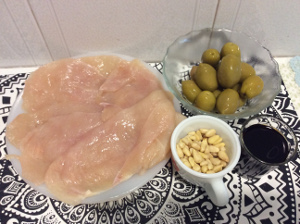 Equipment
Chopping board, knife, non-stick pan, 1 tablespoon.
Method
Cut the chicken breast into stripes and coat lightly with flour.
Heat a non-stick pan, add extra virgin oil, add the chicken.  The chicken will take about 5-7 minutes to cook at medium heat (do not add salt).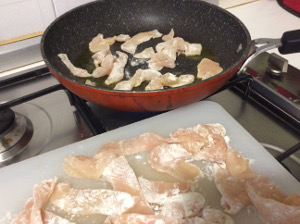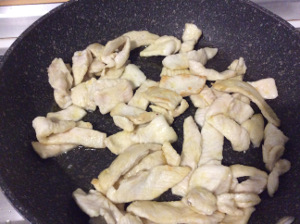 Cut green olives into pieces and add to the pan.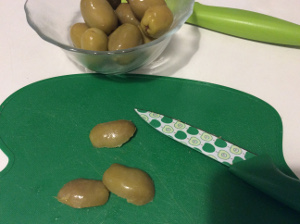 Add the balsamic vinegar, pine nuts, and salt as needed (taste before adding it).  Complete the cooking for no more than 1 minute.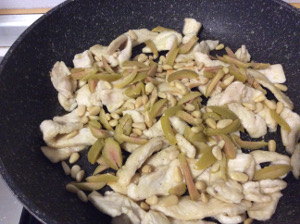 The chicken breast with balsamic vinegar, olives, and pine nuts is ready. If you want, you can drizzle more vinegar on the serving plate (to make it even tastier).
Enjoy your meal!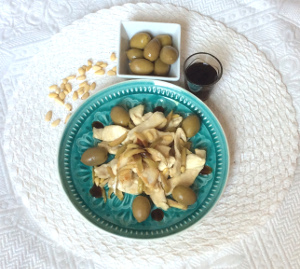 Tips
Cooking time depends on the thickness of the chicken breast. As an alternative, you can buy a whole chicken breast and cut it into small chops (also called "bocconcini" in Italy).
The secrets to keep the meat tender are (i) the flour, and (ii) not adding salt until the end of cooking.
When you dredge chicken into the flour, then you cook it in a heated pan, you get a golden and crispy crust. This crust will preserve the meat juices inside. Also, adding salt at the end helps prevent the meat from drying out. Olives are tasty and you do not need too much salt.