Chicken breast with aubergines
Loading…
Chicken breast with aubergines is a delicious and light second course. This recipe is easy and rich in taste – with just a few calories. The meat will remain tender, juicy, and very tasty thanks to the marinade and the aromatic herbs.
Ingredients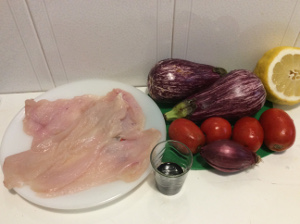 Chicken Breast 4 (about 120 gr. each)
Aubergines 2 (small ones)
Ripe tomatoes 150 gr.
Onion (red) 100 gr.
Lemon 1
Mix of dried aromatic spices 1 tsp
Parsley at your taste
Balsamic vinegar 2 tablespoons
Extra virgin olive oil 20 ml.
Salt and pepper
Equipment
Chopping board, knife, parchment paper, baking tray, medium non-stick pan, small bowl, 1 dish.
Preparation
Put the chicken fillets on a plate and season with the lemon juice, oil, the mix of dried aromatic spices, salt, and pepper.  Let rest 10-15 minutes.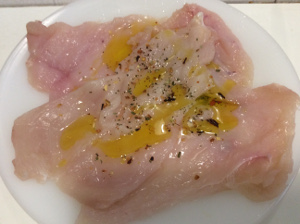 Meanwhile, prepare the aubergines. Wash them, cut them in half, and using a sharp knife cut a crosshatch pattern on the aubergine flesh (the incisions should not be too deep, about half of the width of the aubergine halves).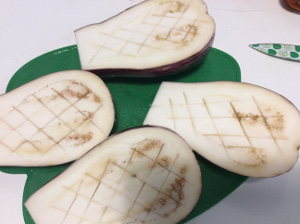 Heat a non-stick pan with a drizzle of oil and place the aubergines with cut side down.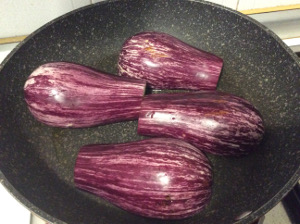 Wait for them to reach a nice caramelized colour, then turn so the peel side is down. Pour about 3 tablespoons of water into the pan, cover and cook for about 5 minutes. Test cooking with a fork; they are perfectly cooked when the fork slides in easily. Add salt.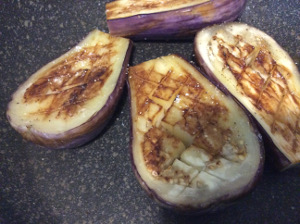 While the aubergines are cooking, prepare tomatoes and onion.
Wash the tomatoes and cut them into slices. Peel the onion and slice.
Pre-heat the oven to 180°.
Line a baking sheet with parchment paper, place the aubergines on the sheet peel-side down, and place a marinated chicken fillet on each aubergine. Pour the remaining marinade over the chicken.
Cover the chicken with the slices of cherry tomatoes, the onion, and a drizzle of olive oil.
Place pan in oven and cook for about 15-20 minutes, with the ventilated function on.
In the meantime, chop the parsley and mix in a small bowl with extra virgin olive oil, balsamic vinegar, salt, and ground black pepper. Set the emulsion aside.
https://cookwithgusto.com/estonia-singles/
Remove the chicken with aubergines from the oven and serve immediately covered with the vinegar sauce.
https://cookwithgusto.com/older-women-dating-app/
Tips
If you have a large aubergine, then cut it into slices, each about 1.5 cm thick.
If you have time, instead of cooking the aubergines in the pan you can bake them for about 15-20 minutes. Just wash, cut, carve, add oil and bake in a baking pan covered with parchment paper.
If you do not have a mix of dried aromatic herbs, you can prepare one quickly. Mix some minced garlic with oregano, basil, rosemary, and a finely chopped men dating older women.
If you are looking for a vegetarian version, you can replace the chicken with some cooked legumes such as beans or chickpeas (previously mixed with the mix of herbs). Alternatively, you can use a thick slice of hard cheese that does not melt in the oven (in this case decrease the cooking time), or you can substitute with seitan or tofu.