While strolling around Italy in the quest for the real Italian food, I stopped in Modena City – the place which gave birth to Pavarotti, Ferrari and the Traditional Balsamic Vinegar 🙂
Here I had dinner in a very nice trattoria, "Il Fantino", where Chef Mauro Calzolari cooked a few traditional dishes for me.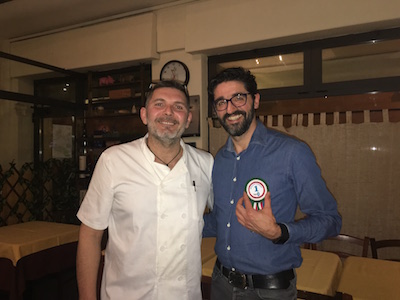 I asked him to tell me the recipe of the dishes that I ate and he was so kind to give them to me.
This is, in his own words, a ten-minute recipe: chicken in balsamic cream.
Chicken in Balsamic Cream
Ingredients:
Serves 4
4 chicken breasts
butter 40 g.
15 g. of wheat flour
1 glass of white wine
salt and pepper to taste
Preparation:
Cut  the chicken into small pieces, roll into the flour.
Heat a non stick pan and add butter, then the chicken. Cook at high temperature for two minutes until golden.
Drop to medium heat. Add the white wine and the balsamic vinegar. Continue cooking for another 5 minutes.
Finally, add the salt, pepper, and the vinegar cream.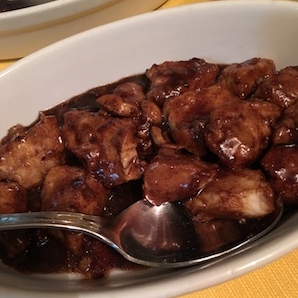 Serve and enjoy.