Chocolate balsamic cake
Loading…
This light version of a classic chocolate cake has a secret ingredient: balsamic vinegar. This makes the cake moist and original. It is relatively low in calories, and suitable for vegetarians and vegans.
Ingredients for a cake of 8 portions:
flour 200 gr.
brown sugar 100 gr.
powdered cocoa powder 3,5 tablespoons
instant baking powder 1 teaspoon
extra virgin olive oil 5 tablespoons
pure vanilla extract 1 tsp
warm water 235 gr.
balsamic vinegar of Modena 1 tablespoon
For the sauce:
Ready to use caramel 2 tablespoons
Freshly squeezed orange juice 2 tablespoons
To decorate:
Fresh fruits, raspberries or other berries
Slices of dehydrated oranges
Cocoa powder or icing sugar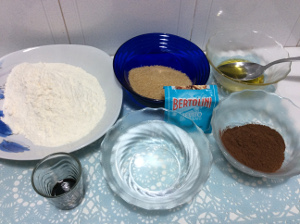 Equipment:
1 spatula, blender (or whisk), 1 cake pan, parchment paper, small-sized mold, small-sauce pan.
Preparation:
Mix the dry ingredients and liquid ingredients in two separate bowls.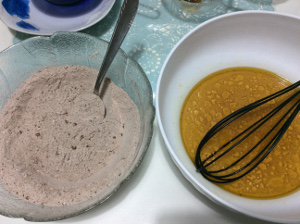 Add the dry mix to the liquids one large spoonful at a time, mixing carefully using a whisk until completely incorporated.
Preheat the oven to 160 ° C and line a small cake pan with parchment paper.
Pour the mixture into the pan and bake in the oven at 160 ° C for about twenty minutes.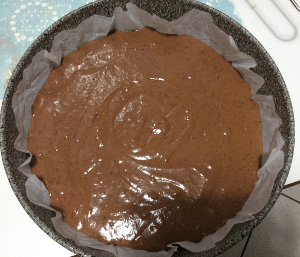 Use a toothpick to check if the cake is cooked, then take it of the oven.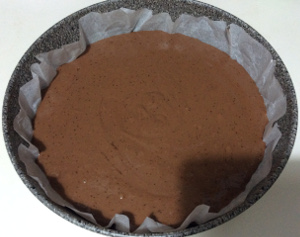 For the caramel and orange sauce:
Pour the caramel in a small saucepan and heat until warm.  Remove from heat, add the orange juice, and mix well.
Slice and plate the cake, sprinkle with cocoa powder or powdered sugar, drizzle with a small teaspoon of the caramel and orange sauce (or put the sauce on the side), and decorate with fresh fruit.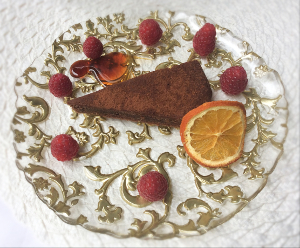 Tips.
If you are not vegan, you can serve this cake with whipped cream or ice cream.
If you like spices, you can add some turmeric to the caramel-orange sauce.