Here's a simple and easy way to make your own hummus that you and your loved ones can enjoy in so many ways. It's from the cookbook, "Cornucopia at Home".
Cornucopia Hummus
Ingredients
2x400g tins of chickpeas (standard tins) or
200g dry chickpeas soaked overnight cooked as suggested below
100ml extra-virgin olive oil
130ml lemon juice (juice of 2-3 lemons)
1 – 1 1/2 tbsp light tahini
2 – 3 cloves of garlic
1 tsp salt
Pinch of pepper
Procedure
Blend all the ingredients together in a food processor until smooth.
In the case of the lemon, garlic and tahini, start with the smaller of the quantities suggested and add extra after tasting.
If the hummus seems a little thick, add a splash of water.
Serve in a toasted pita pocket or on brown bread or as a salad accompaniment.
Hummus also makes a delicious dip for crudites: serve it in a bowl, drizzled with olive oil, garnished with lemon wedges and surrounded by batons of raw chilled carrot, celery, cucumber, red pepper and florets of broccoli.
Hummus can be stored in the fridge, covered, for up to 3 days.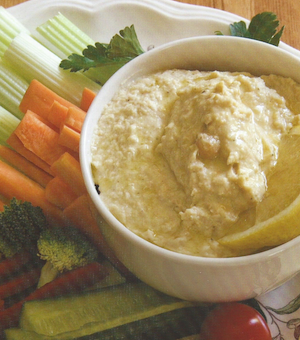 Cooking beans (from page 38)
Check the dry beans for pebbles or grit by spreading them out on a tray and sifting through them.
Rinse them well by placing them in a sieve or colander and running cold water on them.
In a suitable container, cover the beans with about triple their volume of cold water.
Leave to soak overnight, or for approximately 12 hours
Discard the soaking water and rinse the beans thoroughly under cold water again.
Now transfer to a suitable pot and cover with plenty of unsalted cold water.
Bring to the boil, reduce the temperature and then simmer until tender but not mushy. For cooking times, see below.
Borlotti beans  1 – 1 1/2 hours
Butter beans  1 – 1 1/2 hours
Cannellini beans  1 – 1 1/2 hours
Chickpeas  2-3 hours
Kidney beans  1-1 1/2 hours
Pinto beans  1-1 1/2 hours