Yesterday I drove down to Cork for two reasons: first, to meet an old friend, Michelangelo, a fellow Italian who recently relocated to Cork from Dublin; and second, to deliver some products to a new shop in Ballincollig, Pane e Vino, where you can find some of our products if you happen to be in Cork 🙂
As you can imagine, when two Italian friends meet after a long time, we decided to cook together and have dinner over a magnificent wine from our home region Puglia. have you ever tried a Negramaro?
We decided to have a simple but delicious summer inspired dinner. The recipes will follow.
For starters, we had some nice homemade bruschetta with some locally baked spelt and caraway seeds bread topped with Cannonata.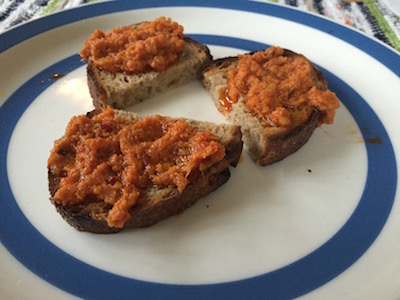 While the pasta was cooking and the sauce was getting ready, the wine was flowing.
We cooked some big fusilli al dente that took all the flavour from the sauce.
We finished our beautiful dinner with some hand made local chocolate truffles and a locally roasted coffee.
Here's  the recipe of the sauce that we cooked for last night's summer inspired dinner:
Fresh tomatoes, garlic, capers, black olives, chilli peppers, 1 aubergine, thyme and extra virgin olive oil.
Michelangelo minced the garlic then added it to a couple of tbs of extra virgin olive oil that was already warming up.
Then he cut the tomatoes in quarters and added them to the oil and garlic. Then he added the capers, the fresh chilli pepper, the black olives and left it to cook for a few minutes.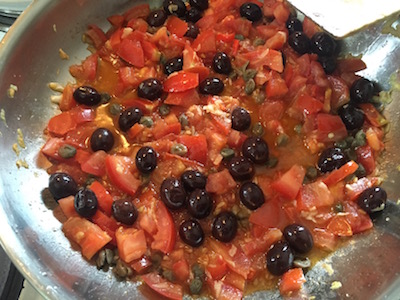 In a small pan with some olive oil, he stir fried the aubergine, that he cut in cubes earlier.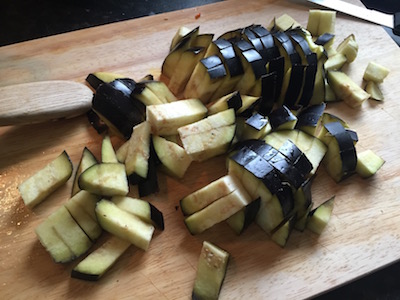 When they were soft, he add them to the tomato sauce and finished cooking.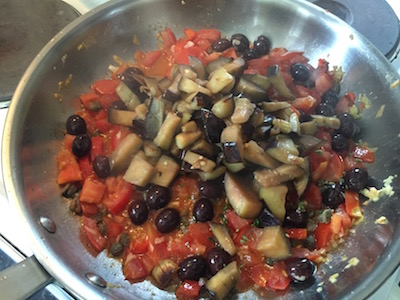 The pasta that was cooking for 12 minutes was almost ready. He drained it and put it back in its pan to which I added the sauce. I cooked it for 2 minutes over low heat, stirring continuously while adding a little bit of olive oil.
https://cookwithgusto.com/philippines-top-dating-app/
The last touch was some crumbled Irish feta cheese made with buffalo milk on top. It's a delicacy that I have never tasted before!!
https://cookwithgusto.com/90-days-to-wed-dating-site/
This is yet another example of how less is more and how pure tastes combined with top quality ingredients make the whole difference!