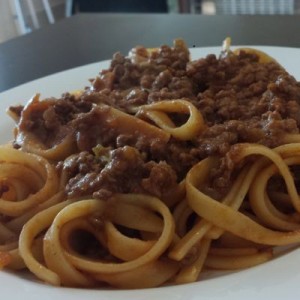 Fettucce ( or fettuccine ) al ragu Bolognese is an easy to prepare recipe with ground beef. It is perfect to prepare during autumn and winter because it is a fulfilling and satisfying dish. In Italy, it is considered as a dish for special occasions. Ragu Bolognese is one of the most famous sauces all over the world because it is very tasty and everybody likes it.
A Little Bit of History
Its history is very old, and its first appearance in the Middle Ages was not as we know it today. But to understand better what is a ragù, let's go to the origin of the word. Ragù comes from the French term "ragout" that is used to indicate any kind of meat or fish, but also vegetables that have been chopped and slowly cooked to make the flavour more intense. In the medieval times this sort of ragù was actually just a mix of different kinds of ground meat  cooked slowly, probably enriched with some vegetables or spices. Of course there was no tomato sauce in that "ragù" because at that period in history, Italians didn't even know of the existence of tomatoes. Tomatoes were introduced in Italy centuries after their discovery in America. What is also very interesting is that no pasta was added to ragù until the 19th century.
The authentic ragù Bolognese has its origins in Emilia Romagna, a region in the North of Italy, and Bologna is the main city of this region. The first recorded ragù recipe was written at the end of the 18th century by Alberto Alvisi from Imola (Emilia Romagna), chef for the Bishop Barnaba Chiaramonti, who was going to become Pope Pio VII in 1800. It was a raw recipe. Alberto Alvisi's recipe included onions, lamb, pork and chicken, butter, broth, flour , mushrooms and cinnamon. The first authentic recipe of ragù Bolognese was written by Pellegrino Artusi from Forlì (Emilia Romagna), a very famous gastronomer in the 19th century. In this recipe we can see all the ingredients that we use today (except for the tomato sauce), and some extras like mushrooms, a small liver or a glass of fresh cream. Both Artusi and Alvisi added pasta to this sauce. Through the years, these recipes were modified in different ways by adding some ingredients and removing others. Finally, on the 17th of October 1982, a Delegation of the Italian Academy of Cusine wrote down, at the Chamber of Commerce, Industry, Artisans and Agriculture of Bologna, what is considered the original Ragù Bolognese recipe.
How to Cook Fettucce al Ragu Bolognese
To prepare a good ragù, it takes patience and time; but the result is delicious!
INGREDIENTS:
400g fettucce

1 big onion

1 carrot

2 celery ribs

300 g ground beef

200 g ground pork

1 glass of wine (red or white)

1 glass of vegetables broth

10 tablespoons of passata
7 tablespoons of extra virgin olive oil

salt and pepper
TIPS: – Enjoy it with a glass of Chianti or Primitivo 😉
– If you like it, you can add some parmesan on top.
-You are a vegetarian but you can't refuse tasty dishes?  Why don't you try out our nice date night?!  You will love it!
-If you don't have time to prepare a proper Ragù Bolognese, don't try to make it faster by cutting down the simmering time! The result is just going to be at the best, OK. Instead, try our https://cookwithgusto.com/dating-sites-browse-without-signing-up/, slowly cooked with traditional ingredients!