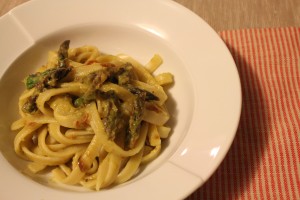 Fettuccia with asparagus and sundried tomato pesto is a delicious first course because of its light and tempting taste. It's the perfect dish for a spring or summer lunch with your vegetarian friends! This is easy to prepare and made even faster by using Taste with Gusto's Pronto spaghetti pesto which you will add at the end of cooking. The delicate taste of the asparagus blends well with the sundried tomato pesto. Accompany this dish with sparkling white wine to enhance the taste of vegetables or a Rosé which will not overpower the refined flavor of asparagus.
How to cook Fettuccia with asparagus and sundried tomato pesto (Fettuccia agli asparagi e pesto di pomodori secchi)
Ingredients:
400 gr Fresh Asparagus
30 gr Onions, finely chopped
2 tbs of Extra virgin olive oil
Salt and pepper to taste
Vegetable stock or hot water
100 gr Pronto spaghetti or Sun-dried tomato pate'
Procedure:
Buon appetito!