In Italy, we are used to separating pasta from chicken, but two weeks ago one of my friends came from Australia to visit me during the Christmas Holidays and she taught me this fantastic recipe!
I obviously gave the recipe an "Italian touch", adding one of my favourite type of sauces which is quite common to find in Italy. I'm referring to the "Cime di Rapa Pesto", which is based on a sort of broccoli instead of the basil, and for this reason, its flavour is a little bitter and garlicky… DELICIOUS!
My friend is celiac, so we used a gluten-free pasta, but the result will be awesome with the regular pasta as well!
To prepare a very quick and super yummy recipe try my:
Tagliatelle with Cime di Rapa Pesto, Chicken and Cherry Tomatoes
Ingredients for 2 people:
180g Tagliatelle or Fettuccine
2 Chicken Breast
1 Jar of "Cime di Rapa Sauce"
6-7 Cherry Tomatoes
Salt and Pepper, as needed
Shaved Parmesan or Pecorino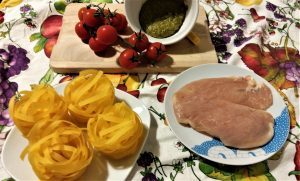 Put the tagliatelle in salted boiling water and cook as recommended on the pack (14-15 minutes).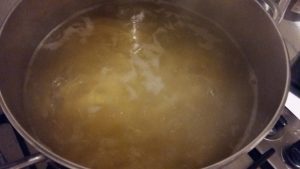 In the meantime slice the cherry tomatoes.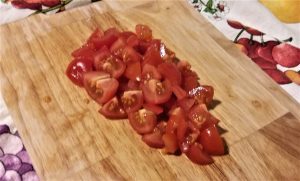 Slice the chicken breasts.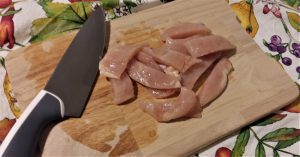 Fry the slices in a pan with a little bit of https://cookwithgusto.com/blind-dating-site/and salt.
Drain the pasta and add it in the same pan as the chicken and also half a jar of Cime di Rapa Sauce.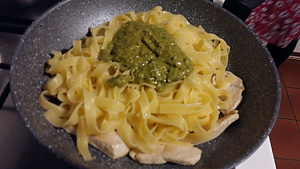 Finally, add the sliced cherry tomatoes and serve warm. If you like you can sprinkle shaved parmesan or pecorino on top as final touch… all done!!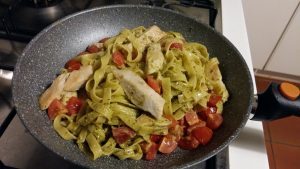 Enjoy and… Buon Appetito!