For some people, cakes are very tasty, sweet treats. They come in all shapes, sizes and designs. But, some people cannot enjoy them because of gluten intolerance, which can cause digestive problems.
So, for the first time ever, I am giving you a cake recipe. Everybody can enjoy this sweet treat because it doesn't contain gluten or yeast. It's also very simple and easy to prepare.
Gluten Free, Yeast Free Apple Cake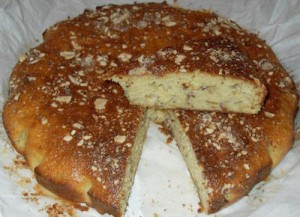 Ingredients:
3 apples
Juice of one lemon + its peel (Preferably choose an organic or untreated lemon)
325g almonds wheat or ground almonds
8 whole eggs (or only 6 if large)
210 g of granulated sugar or cane sugar
50g sliced almonds to put on before baking
Procedure:
Peel the apples and cut them into small cubes. Then, put them in a pan together with the lemon juice and two teaspoons of sugar. Cook for 10 minutes or until they become soft. Allow to cool.
Now whisk  the eggs in a bowl together with the remaining sugar. Add the almond flour, the grated lemon rind and the soft apples. If you have a food mixer you can use it for this.
Pour the mixture into the pan, sprinkle the top with sugar and sliced almonds.
Bake at 170 degrees for 35-40 minutes.
Absolutely must cool before being served.
Enjoy.