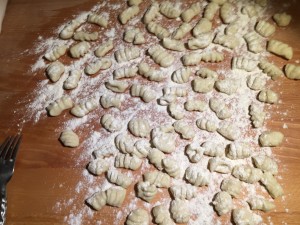 Gnocchi is an Italian classic that is very easy to prepare. It only requires two ingredients plus your favourite sauce to make it right. Some people do make gnocchi using eggs; this will make the dough easier to handle but will result in a more rubbery and tougher product.
Before we proceed to the recipe, I'd like to give you a few tips:
When making gnocchi, it is better if you steam rather than boil the potatoes. This will give you a tastier, lighter and firmer gnocchi.
If you boil them, don't puncture the potato with a fork too much. This is to prevent them from being waterlogged.
For best results, mash the potatoes while they're still hot. This will make your dough smoother and easier to knead.
Always boil in lightly salted water and add just a few at a time. When cooked, they will rise to the surface. Collect them with a slotted spoon and serve immediately with the sauce of your choice.
The best potatoes to use are not the baking potatoes or the baby fresh potatoes. You need the waxy potatoes for boiling. In Italy, where we don't have baking potatoes, we always ask for "old" potatoes when we are making gnocchi.
How to Cook Gnocchi
Ingredients:
750 g Boiling Potatoes
300 g All-purpose flour
Procedure
1. Steam the potatoes with the skin on for 30 min or until done. Remove them immediately from the steamer and pull off the skin. I have cut them in half and peeled them with a knife. Pass them in a potato masher and add most of the flour. Some potatoes absorb less flour than others do, so it is better to add the flour slowly.
2. Knead the dough until it is smooth and soft but still slightly sticky. Dust with a little flour. Divide the dough into smaller pieces and shape them in a sausage-like roll of 2-3 cm.
3. Cut them into small pieces. Press each piece using a fork with the head down. This will create ridges on one side and a small hole on the other. This will help the gnocchi cook evenly and the sauce to stick better. Here's a video I made on this:
4. If you have one, use a broad pan because it will accommodate more gnocchi at the same time. Start to pour the gnocchi into the salted boiling water. After a few moments, they will start to float. Keep them there for another 10 seconds and then collect them with a slotted spoon.
5. Put the gnocchi in a warm dish with your favourite sauce. I have used pesto for mine. Stir and serve with Parmigiano cheese on top.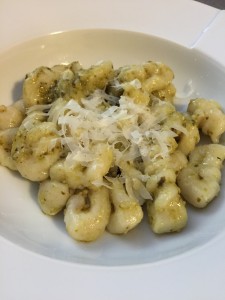 Buon appetito!
See how easy it is to make gnocchi? Try it out and let me know how it turns out.