Gragnano calamari-shaped pasta is perfect for certain dishes.  Its grooved texture helps absorb the sauce. Its thickness is perfect for cooking until the sauce is creamy. The space inside the calamari lets in the sauce and other delicious food. With every bite, you celebrate the flavours.
The following recipe pairs this pasta with a delicious sauce made with marinated fresh tuna.  Dried olive crumbs add a unique texture, colour, and extra flavour.  It is the perfect dish for lunch or dinner guests.
Gragnano calamari-shaped pasta, with marinated fresh tuna, olives crumbs, and fresh tomatoes
Ingredients for 3:
300 grams "Calamari" Gragnano Pasta
5 very ripe tomatoes (if you do not have them you can use a tomato sauce of excellent quality instead)
40 grams pitted black olives
2 fingers dry white wine
Parsley, some leaves
Good quality extra virgin olive oil
1 fresh tuna slice of about 200 grams (can substitute sea bass or mackerel)
salt
1 clove of garlic
1 small chili pepper (optional)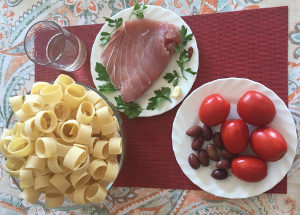 Equipment
1 large pot, 1 small sauce pan, 1 non stick pan, 1 chopping board, 1 bowl, 1 knife.
Preparation
Marinate tuna.
Put the garlic, chili, some leaves of parsley, and white wine into a bowl, then add tuna. You can prepare this a few hours before cooking pasta, or even 1 day before*. Cover with cling film and store in the fridge until you start cooking.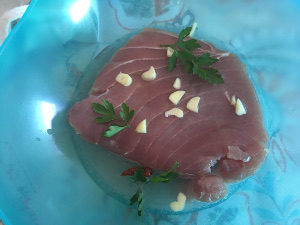 Wash tomatoes and cut into cubes.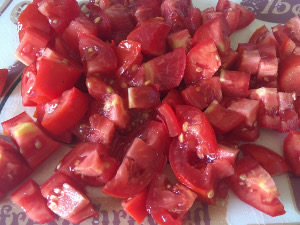 Heat quality oil in a small pan with the garlic clove cut in half.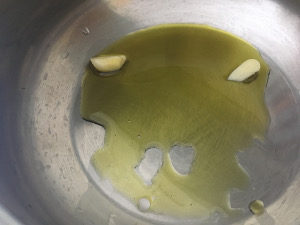 Add tomatoes and cook over medium heat until the pasta is drained.  Do not add any salt (yet).
Dry olives in a microwave oven for a few minutes
and then chop them into crumbs (you can use a knife or food processor).
Remove tuna from the marinade
and dry well with a piece of absorbent paper.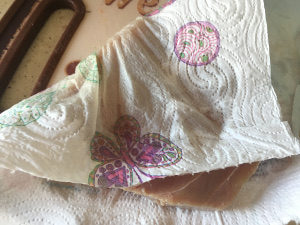 At this moment, you can pour water into a large saucepan, put on the stove, bring to a boil, and add salt (it takes some time to boil water in a large pot).
Heat a non-stick pan and grease lightly.
Add tuna carefully to a non stick pan.  Cook tuna on one side, then turn gently and finish cooking as you wish. Since this is a pasta recipe, not everyone likes seared tuna. Evaluate this in case you have guests.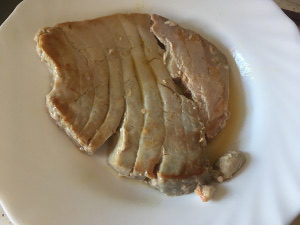 Place cooked tuna on cutting board and cut into regular cubes. Cover and keep warm.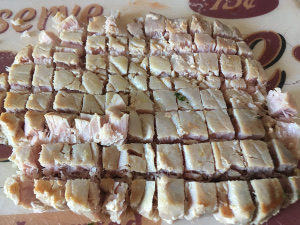 Chop parsley and set aside.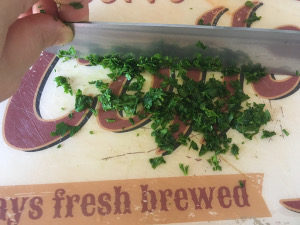 Pour calamari into the large pan, and cook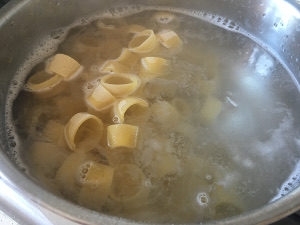 drain when calamari is still very "al dente", about 4 minutes before the total cooking time of 12 minutes. Leave a finger of water in the pot.
Keep a cup of cooking water aside, to be added if needed. Pour pasta back into the pot.
Remove garlic from the tomato sauce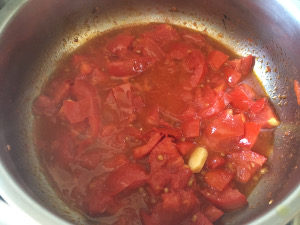 add to the calamari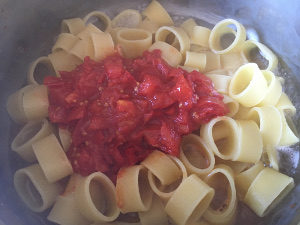 and stir continuously until all the liquids are absorbed.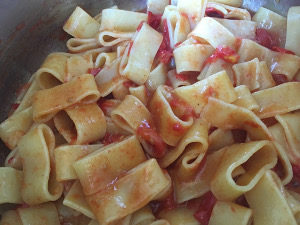 When the calamari are perfectly cooked, add tuna and parsley. Mix quickly.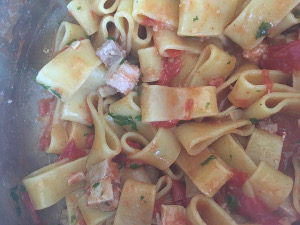 Serve and sprinkle with olive crumbles, add a drizzle of olive oil.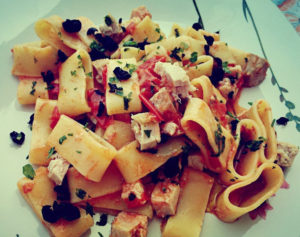 Et voila: love is served! A simple dish, easy, genuine, healthy, and delicious.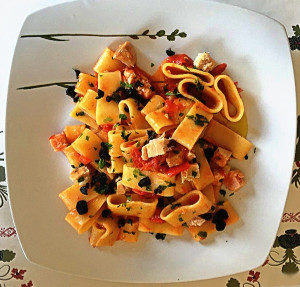 Tips.
*If you do not have the time to marinate the fish, you can cook in the classic manner, heat a pan, add oil, garlic, and tuna. Turn tuna, drop some white wine, let evaporate, and cook.
You can dry olives in the oven. Preheat the oven to 150 degrees, then chop. Line baking tray with parchment paper and lay down olives in one layer. Dry for about 45 minutes. If you don't have time, you can purchase ready to use oven dried black olives, just chop them. You can prepare extra olive crumbs and store them in a jar in a cool place.
Tuna fish and dried olives are naturally salty. Add salt only to the boiling water before cooking pasta. Add a pinch of salt to the fresh tomato sauce only at the end.
If ripe fresh tomatoes are not available, you can use a quality tomato sauce. Add it after you drain calamari, then keep on cooking pasta until it is creamy.