Gragnano fusilloni with ricotta, taralli and dried tomatoes is such a tasty recipe that after you have tried it you won't want to wait to prepare it again.
It is typical in Puglia (and other areas in the South) to sprinkle crispy taralli breadcrumbs on top of the dish before serving. Using the amazing Gragnano pasta makes it a mouth-watering experience, because of the different textures and flavours. There is fresh basil, creamy ricotta, and a tangy explosion of sun-dried tomatoes.
Also, it is quick to make since you can prepare the sauce while the pasta is cooking. Then astonish your guests with the flavours.
It is especially good in summer, when tomatoes are in peak season, but is also good in colder months. The fresh and sun-dried tomatoes also contain piles of C vitamin.
*Gragnano fusilloni with taralli and dried tomatoes is a vegetarian recipe.
INGREDIENTS:
400 g Gragnano fusilloni pasta
200 g sun-dried tomatoes in oil
60 g crumbled taralli
1 clove of garlic
3 tablespoons extra virgin olive oil
2 tablespoons grated Pecorino cheese
10 fresh cherry tomatoes
3 or 4 leaves fresh basil
400 g fresh ricotta (or other creamy cheese)
1 tablespoon salt to cook pasta and a pinch to cook tomatoes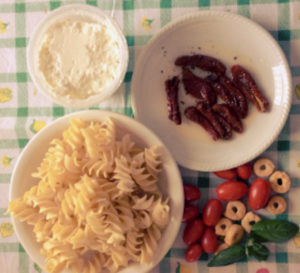 Equipment
1 medium sauce pan, 1 large pan, 1 small pan, 1 chopping board, 1 meat tenderizer, 1 blender.
PREPARATION:
Pour water into a medium saucepan, put on the stove, bring to a boil, and add salt.
Put the taralli on a cutting board and beat with a meat tenderizer, leaving some irregular crumbs.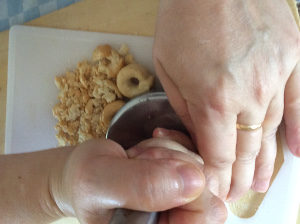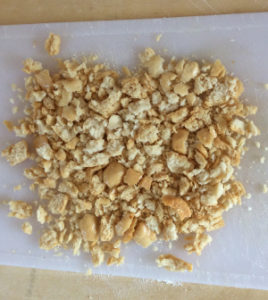 Drop them into a pan with a tablespoon of oil and toast gently.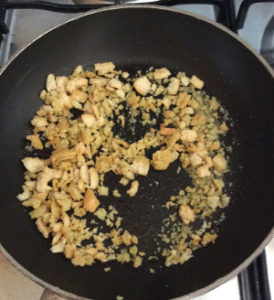 Pour ricotta, dried tomatoes, and basil into a mixer and chop quickly.
https://cookwithgusto.com/dating-site-tinder/
Into a pan, pour 2 tablespoons of oil, add garlic cut into 2 half pieces, add the cherry tomatoes cut in half, cook until tomatoes become tender.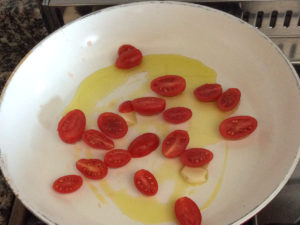 Pour fusilloni into salted boiling water,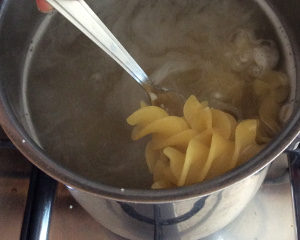 cook and drain fusilloni when "al dente"; put some cooking water into a tea cup and set aside.
Remove the garlic from the pan with the cherry tomatoes.
Pour drained fusilloni into the pan with the tomatoes, add half cup of cooking water, continue until fusilloni are cooked, but are not too dry.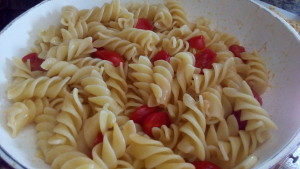 Add the mix of ricotta, dried tomatoes and basil, 2 tablespoons of grated Pecorino (keep some in case you want to sprinkle some on top of the serving plate) and add a tablespoon of cooking water.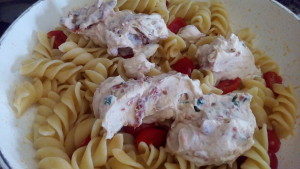 Quickly mix the fusilloni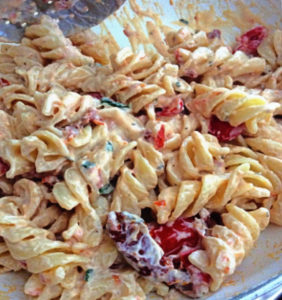 and then place portions onto serving plates, topping with taralli crumbs.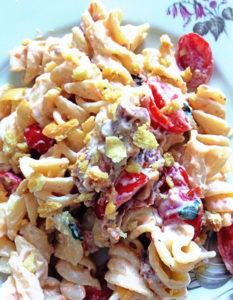 Serve, enjoy, and share if you try Gragnano fusilloni with taralli and dried tomatoes!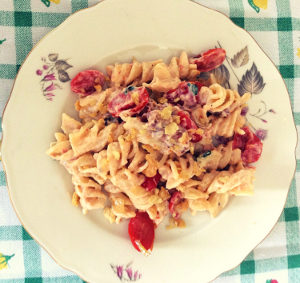 VARIATION IDEAS:
You can chop the taralli inside the mixer: this step makes the crumbs more regular.
To vary the recipe use grated Parmigiano Reggiano instead of Pecorino.
Instead of cherry tomatoes, you can use ripe tomatoes freshly sauteed in a pan. If you prepare this dish in winter and do not have ripe tomatoes, you can use a good quality tomato sauce. The sauce enriches the recipe; try this.
If you do not find ricotta you can use other creamy quality cheeses, like Philadelphia, cream cheese, or goat cheese.