In Italy, a popular New Year's Eve tradition states that eating lentils at midnight will bring one financial prosperity in the year to come... Red hot chilli peppers are also a symbol of good luck and money! 

Today, I want to share with you how to make a fantastic lentil soup with tomato sauce and blend it with Balsamic Vinegar of Modena IGP. Then, add few spoons of Hot Chilli Pepper Spread to give an extra chilli taste! In this recipe, you can enjoy the highest quality ingredients combined with restraint and balance 🙂
I will also show you how to make a soft cornbread, which is perfect to match this soup! It is enriched with cheese and it is delicious if served warm with this soup. If you want you can also try my Soft Loaf with Veggies and Ham.
So what are you waiting for? You can't miss this lucky dish!
Put your apron on and try my:
Hot Lentil Soup with Cornbread
First, I will show you how to make the soup and below you can find the recipe to make the cornbread 🙂
1) Lentil Soup
Ingredients for 2 people
Warm up a bit of Extra virgin Olive Oil in a pot. Add the chopped pepperoni and sautèe it, until crunchy.
Remove the Pepperoni from the pan, and fry in the same oil the clean and chopped onion and carrot, the garlic clove, and ground cumin seeds.
Add the paprika and sugar, let cook for one minute and then blend with the online dating profile examples.
Add the lentils and cook for a few minutes.
Then add the vegetable stock and the tomato sauce
Bring the water to the boil, and let it cook with the lid for around 40-60 minutes (until the lentils are tender). Add further stock or hot water, if necessary. Adjust with salt and pepper.
You can make the soup more creamy, just quickly mixing it with a blender. Don't make a cream, leave the most of the lentils whole.
Add the crunchy pepperoni, prepared at the beginning, and 2 or 3 tbsp of Hot Chilli Pepper Spread and warm up the sauce on the heat.
Serve in bowls, sprinkling with raw Extra virgin Olive Oil and adding a spoon of Greek Yoghurt.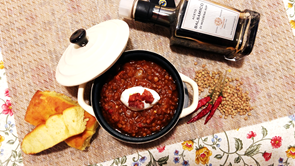 2) Cornbread
Ingredients
125g Flour 00
170g Corn Flour
14g Sugar
7g Baking Powder
6g Salt
365g Milk
2 Big Eggs
20g Butter (melted)
100g Grated Gruyere Cheese
80g Whole Kernel Corn
Pepper
In a big bowl, mix the two sifted flours, sugar, sifted baking powder, salt and a pinch of pepper.
Add the milk, eggs and butter and stir all together. Then add the grated cheese and whole kernel corn.
Line a 20cm long baking tin with baking paper. Pour the mixture inside and bake at 220°C for 35 minutes.
Slice into cubes and serve warm with the soup.