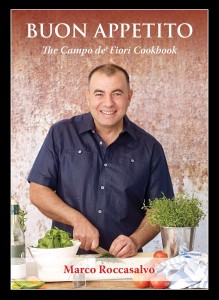 I will share with you a very summery  recipe  from the new book "Buon Appetito" by my friend  Marco Roccasalvo, owner of the restaurant "Campo de Fiori" in Bray.
Insalata di riso is a complete meal by itself. It's the perfect dish to bring to a picnic because you don't need knives or something.
And now, here's  Insalata di riso by Marco from Buon Appetito 🙂
This dish kills me because when I prepare it I cannot stop eating it! It's the perfect summer dish, particularly if you are throwing a party or organizing a picnic – it's just so versatile. Be careful not to overcook the rice, when cooked the grains should not stick together. You can keep this salad covered in the fridge for at least two days.
How to Cook Insalata di riso
Serves 4
200g parboiled rice, carnaroli or basmati
20 cherry tomatoes
6 pickled artichokes (available from good Italian delis)
60g cheese, such as cheddar or gruyere, chopped into small 1cm cubes
80g sweet corn, tinned is fine
100g cooked ham, cut into small 1 cm cubes
150g (1 small tin) tuna in brine
15 pickled gherkins
20 black olives
4 tbsp mayonnaise
Sea salt
Boil the rice in a large pot of salted water and drain one minute before the indicated cooking time. Pour it out on an oven tray and dress with 4 tablespoons of extra-virgin olive oil. Mix well and let the rice cool down. Once cool remove it to a covered bowl in the fridge while you chop the rest of the ingredients.
Chop up the tomatoes, pickled artichokes, cheese, ham and gherkins into small cubes much the same size if possible (about 1 cm). Pit the olives and cut them in half; drain the tuna and mix all the ingredients in a large bowl. Add the mayonnaise, season with a pinch of salt and mix well.
Remove the rice from the fridge and mix it in with all the other ingredients. You then have the choice to serve the salad immediately or put it back in the fridge for later. You can eat this dish at room temperature or straight out of the fridge. Be careful not to become addicted like me!