In Italy, the main meal of a festive day like Christmas, Easter or a birthday always starts with an Antipasto.
The word Antipasto means "before the meal", and is used to "stuzzicare l'appetito" or to whet the appetite for the countless dishes that will follow ;-)"
To prepare a good antipasti, a few ingredients are required but you have flexibility in terms of choices. In fact, a lot of it will depend on the preferences of the guests and from the local products.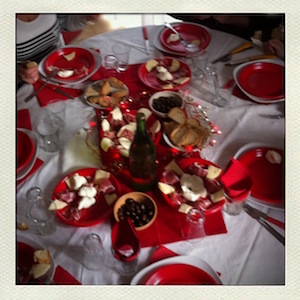 The antipasto is usually made of cold or ambient temperature food. Typically,  you will find the following:
Affettati – Cold cuts like: Parma ham, salami, capocollo
Formaggi – Cheese like: Parmesan into pieces, mozzarella, ricotta and medium aged cheese Scamorza, Caciocavallo or Provola.
Preserved Vegetables like: Artichokes, Sun-dried Tomatoes, Olives, Stuffed chillies
And if you are in any seaside town, expect to see some sort of "Insalata di Mare" or preserved fish in your antipasto like: Calamari, Octopus and mussels
All these can be served in a single platter in the middle of the table. Or do it as my mother usually does at home – prepare a dish for each guest and put some more in the middle so they can get a second round of what they liked the most 🙂
Everything is usually enjoyed with freshly toasted bread
A WARNING: If you go to Puglia and order one "Antipasto della Casa" as starter in a restaurant you should expect to receive between 10 to 25 small portions of cold and hot dishes. This will be enough as dinner already… for two people! I suggest that you shouldn't order any other course before ending your antipasto. 😉