Jam tart with soft yogurt and olive oil crust.
Loading…
Jam tart with soft yoghurt and olive oil crust.
This simple and fragrant dessert is perfect for Easter that will leave your family asking for second helpings. The tangy yoghurt in the crust complements the fresh jam-based filling to produce a mouth-watering experience.
Jam tart with soft yoghurt and olive oil crust.
Ingredients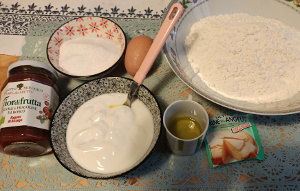 Flour 320-350 gr
Sugar 100 gr
Egg 1 (large)
White yoghurt (or vanilla, lemon, or other as you like) 150 gr
Extra virgin olive oil 50 ml
Pinch of salt 1
Baking powder 10 gr
For the filling: 1 jar of excellent quality jam (we have used strawberry jam).
Equipment:
1 spatula, blender (or whisk), 1 cake pan, parchment paper, small-sized mold.
Preparation
In a bowl mix yoghurt with egg, oil, sugar, lemon peel, and a pinch of salt.
Gradually add the flour with the yeast, mix and until you obtain a dough.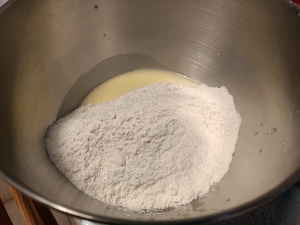 Move onto a pastry board and incorporate the remaining flour until you have an elastic dough that no longer sticks to your hands. You can use it immediately, without letting it rest in the fridge.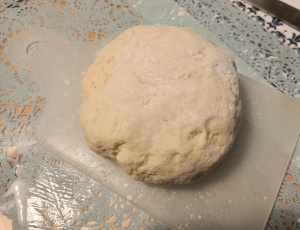 Roll out 1/3 of the dough (about 220 g) in a 22 cm hinged mold lined with parchment paper. Prick the bottom with a fork to make many small punctures (not too deep).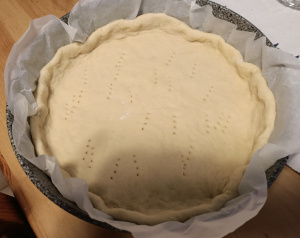 Cover with jam. With the remaining dough form about 20/25 balls of about 15 g. and cover the whole tart, spacing them out as they grow in volume a little when cooked.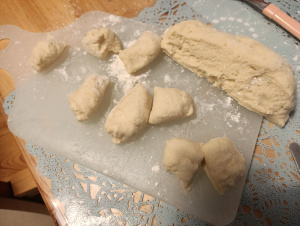 Bake in a preheated static oven at 175 ° for about 40 minutes until golden.
Use a toothpick to test cooking – when it comes out dry the tart is ready.
Let cool, sprinkle with icing sugar, and serve!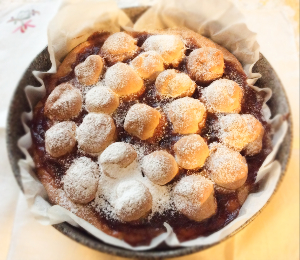 Tips
You can keep the tart for 1 day at room temperature then transfer it to the fridge and consume it within 3-4 days.