There are times when I want to eat something fresh and tasty but don't have much time to cook. At times like these, I need a dish that can be prepared in less than 15 minutes – max. Have you ever been in such a situation too?
If so, here's a recipe I'd like to share with you. Linguine with fresh tomatoes and garlic is the perfect recipe that can be prepared if you are on your own or if you are preparing lunch for the entire family or a group of friends.
Linguine with fresh tomatoes and garlic
Ingredients
Here are the ingredients for one person. You can easily multiply the quantity depending on the number of  your guests. 😉
1 clove of garlic (with stem removed)
30 ml – 2 tbs of Extra Virgin Olive Oil
150 gr Cherry Tomatoes
100 gr Spaghetti or Linguine
Freshly grated cheese (Parmigiano, Cacioricotta or your favourite)
Salt
Procedure
Put to boil one litre of water for each 100 gr of pasta.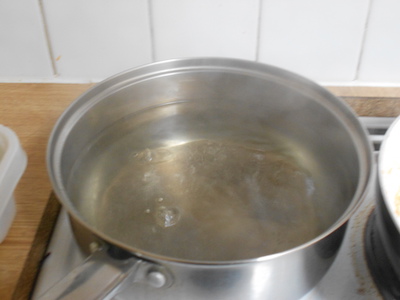 Once the salted water is boiling, put the linguine. Meanwhile, cut the tomatoes in half.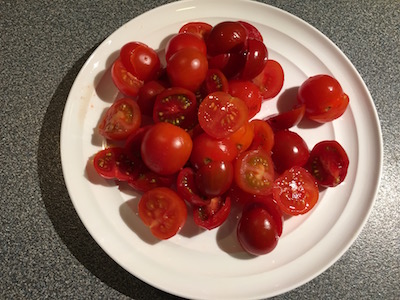 Get a pan, pour some olive oil and turn the heat to medium. Cook the garlic until golden, taking care not to burn it.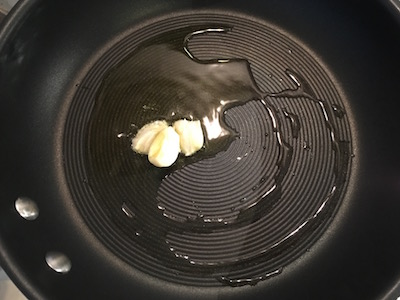 Now add the tomatoes and a little bit of salt.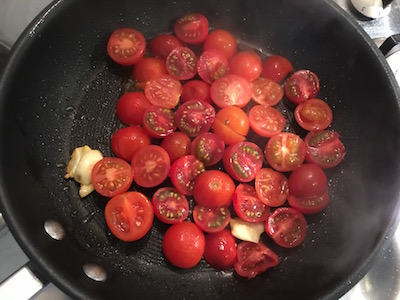 Cook the tomatoes until they sweat.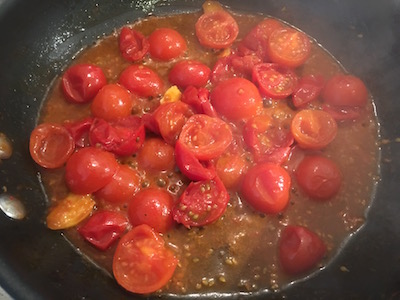 Check the pasta. It should be firm yet eatable. Drain it, but save some pasta water for the sauce.  We want to finish cooking the pasta with the tomatoes.
Add the pasta to the tomatoes. Mix well. Continue cooking for another 2 minutes.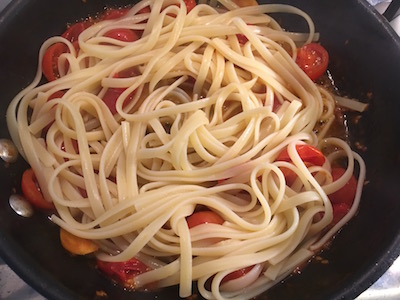 Serve it with your favourite cheese, I have used Cacioricotta a typical cheese from my region 🙂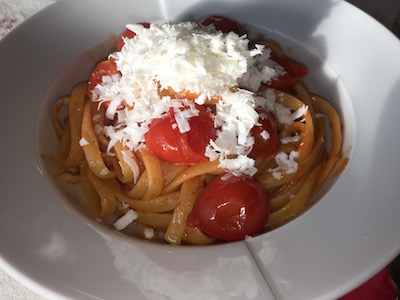 Buon Appetito!