Linguine and white beans in tomato sauce
Linguine and white beans in tomato sauce is a delicious first course sure to make a splash. This recipe is easy to prepare but at the same time suitable for special occasions.
In Italy there are many versions of pasta and beans, and it is mainly prepared as a "soup". The method of cooking pasta and beans together is very old: in Ciociaria, for example, it was already served at the time of Cicero, who loved it.
This version is typical of the Italian regions of le Marche and Emilia Romagna. Also, in place of the linguine you can use freshly handmade noodles or colored pasta shapes as alternatives.
The combination of legumes (beans) and cereals (pasta) is interesting from a nutritional point of view because they complement one another and together they provide a full and balanced mix of amino acids and proteins.
See the "tips" section for additional ideas.
Ingredients
linguine pasta 250 gm.
fresh shelled beans 400 gm. (or boiled beans as an alternative)
carrot 1 medium
onion 1 small
ham 50 gm. (optional)
chopped tomatoes 400 gm.
Parmigiano Reggiano crust 30 gm. (or Grana Padano as an alternative)
parsley a few leaves
freshly ground black pepper
salt
Equipment
1 medium saucepan, 2 small saucepans, 1 chopping board, 1 knife, peeler, 1 bowl.
Procedure
Shell fresh beans.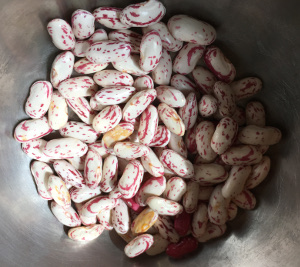 Wash carrot and onion. Peel carrot and chop finely (you can use the mixer). Chop onion finely and set half aside for the tomato sauce. Cut off the crust of Parmigiano cheese to use in the sauce.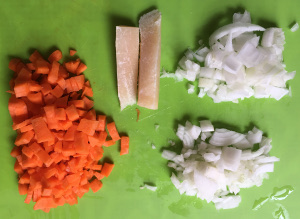 In a saucepan gently saute the chopped carrot and half of the chopped onion with 4 tablespoons of oil.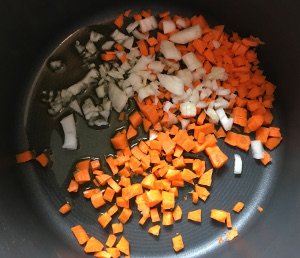 Add Parmigiano crust and beans.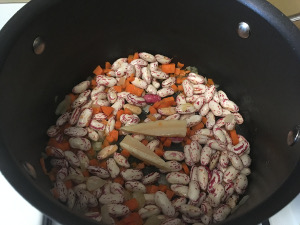 Let them cook for about ten minutes, then pour enough hot water to cover beans and cook the mixture until the beans are soft and have soaked up the cooking water, about 30/40 minutes. Add water if necessary.
* Shortcut. If you are using boiled beans just add them to the carrot/onion mixture, then add the Parmigiano crust, and cook about 10 minutes, then proceed with the tomato sauce and the next steps.
In a medium saucepan gently cook the remaining onion with 2 tablespoons olive oil.
When the onion is cooked and soft add tomatoes and cook about 20 minutes.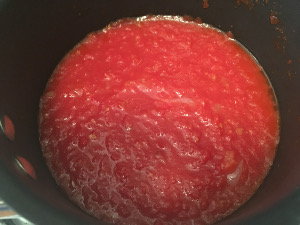 Drain the parmesan crust from the beans and, while it is still boiling, cut into very small cubes.
Add the chopped Parmesan crust back to the beans, add the tomato sauce, and add salt to taste. Let cook for an additional 10 minutes.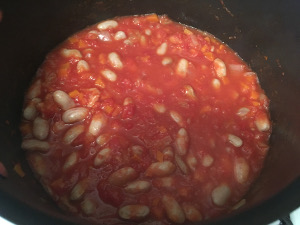 Wash parsley, chop finely and add to the tomato and bean sauce.
Cook the linguine "al dente", drain, season with the sauce. If you want to add ham, cut it into strips, and distribute on top.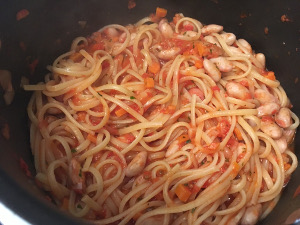 Serve with a drizzle of oil, and freshly ground pepper.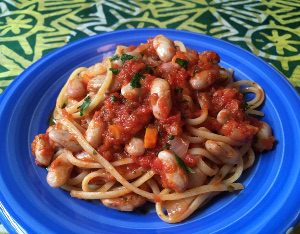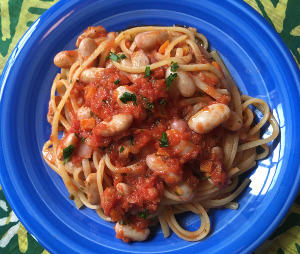 Tips
Instead of ham, you can use bacon and add at the beginning of the recipe, when you saute the carrots and onion.
You can add freshly chopped rosemary together with the carrots, onion, and bacon.
If you are not serving the dish to children and you like chilies, you can add them at the end once the sauce is cooked.
If you use boiled beans, drain well before cooking with vegetables. Depending on the variety of beans, the cooking time may vary.
Red and white beans are both perfect for this recipe.
You can add freshly grated Parmigiano cheese on top of your linguine.
You can use "Country basil pasta sauce" if you are in a hurry. Add the pasta sauce after you have cooked beans, then boil for a few minutes.