My friend, Duncan McDougall, is the Head Chef at Taste Food Company. It's a very busy place, well-loved by customers not only for its great-tasting food but also for its warm and friendly service.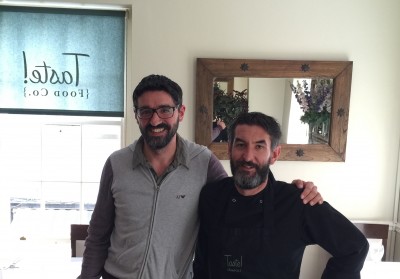 During our conversation, I asked him, " What is the most important element for the success of your kitchen?" Without waiting a second, he replied, "Freshness of ingredients". He explained that when you use the freshest vegetables, meats and fishes, the dish will taste delicious every time.
Lucky for us, Duncan shares the recipe of one of his bestselling dishes: Mediterranean Veggie Pasta. It's an easy and fresh recipe that you can do for the whole family in just a few minutes.
Mediterranean Veggie Pasta
Ingredients for 4 people
4 portions fresh linguine/fettucine or 400 gr. of dried Linguine/Fettuccia
1 courgette
1 aubergine
1 red pepper
1 yellow pepper
1 green pepper
Few pitted olives
4 marinated artichokes
4 tbsp Sundried tomato pesto
100 g Goats cheese (I use Ardsallagh)
3 tbs of extra virgin olive oil
salt & pepper to taste
Few fresh basil leaves
Preparation
Cut the vegetables into slices, saute in a hot pan with extra virgin olive oil.
Add the quartered artichokes, the olives and the pesto.
Drop the pasta into boiling salted water, around 4 min, if you use fresh pasta.
If you use dried pasta, cook it for 2 min less than the time indicated on the packet.
Add a small drizzle of the pasta water to loosen the sauce.
Add the pasta and season with salt & pepper.
Put into 4 bowls.
Crumble the goat's cheese over top and decorate with a few basil leaves torn by hand.
Enjoy it as much as I did!!!