Melanzane a funghetto
Loading…
The recipe of melanzane a funghetto is always successful. In Italian, funghetto means "like mushrooms" (funghetto), and the recipe gets its name because the aubergines are cut like mushrooms.
This version uses baked aubergines and is as good as the classic version where they are fried (but healthier!).
This recipe is gluten-free and vegan.
Ingredients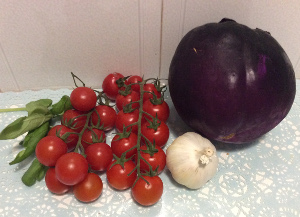 Eggplants 1 (or more – about 450 gr.)
cherry tomatoes about 250-300 gr.
garlic 1 clove
extra virgin olive oil 3 tablespoons
basil
salt
Equipment
Non-stick frying pan, chopping board, knife, parchment paper, baking tray.
Preparation
Turn the oven to 190°.
Wash the aubergines and cut them into large cubes.
Line a baking tray with parchment paper, and arrange the aubergines in a single layer. Season with a little oil and bake for about 15 minutes, until they are soft.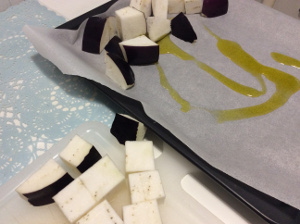 Meanwhile, in a pan, gently fry the garlic with the oil and basil. Add the chopped tomatoes and cook over low heat for 5 minutes.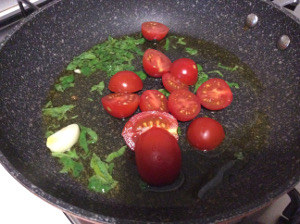 Add the aubergines, season with salt and cook for about 2-3 minutes.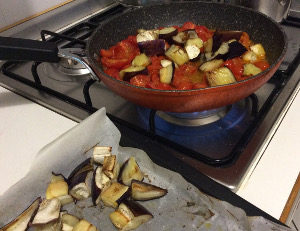 Serve!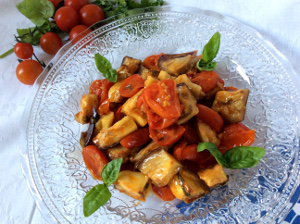 Tips.
The aubergines make a great topping for bruschetta; simply toast some good slices of Italian bread and top with the aubergines.
If you like melted cheese, you can add some large pieces of mozzarella (or scamorza or other cheese as you like) directly into the pan. Add the cheese at the end, after all the vegetables are cooked.
If you like rich flavours, you can add some black olives (add them at the end).