Monkfish with tomatoes is a recipe for preparation of the monkfish stewed with tomatoes, black olives and oregano. The best way to  enjoy it is with homemade bread or some linguine. To prepare the monkfish with tomatoes, you will need to find some San Marzano peeled preserved tomatoes in tomato juice. Alternatively it is ok to use fresh tomatoes, cut into large cubes and a little of passata.
INGREDIENTS for 2 people
▪ 500 g of monkfish
▪ 1 white onion
▪ 1 tablespoon extra virgin olive oil
▪ 400 g of San Marzano peeled preserved tomatoes in tomato juice
▪ Sale
▪ Oregano
▪ a bunch of black olives
PREPARATION
▪ If you buy a whole monkfish clean it by removing the skin (usually is sold already headless) and cutting the fins. Rinse under running cold water and slice it into slices 3-4 cm thick. Remove the central spine by cutting it off from the pulp and therefore obtaining two pieces from each slice. Instead I used a clean tail that I rinsed and cut in pieces of 3-4 cm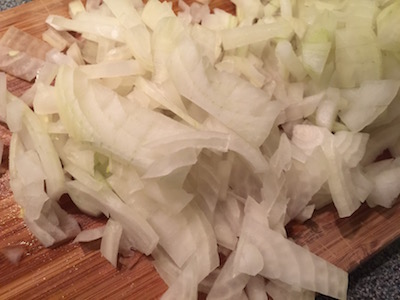 ▪ Clean the onion removing the outer layer and chop finely.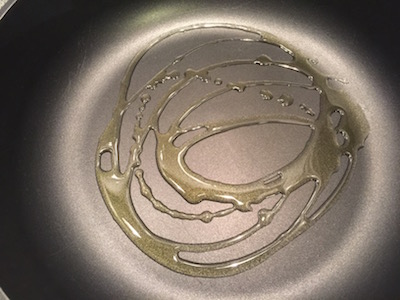 ▪ Put the oil and the onion in a pan. Bring it on the heat and let it brown well over medium heat.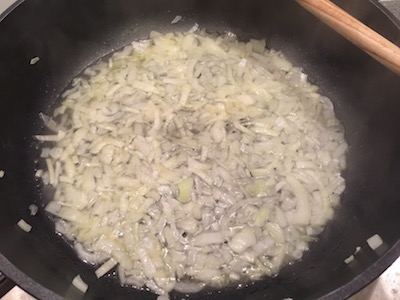 ▪ Combine a tablespoon of hot water or vegetable broth, a pinch of salt, reduce heat and let simmer for a few minutes so that the onion becomes transparent.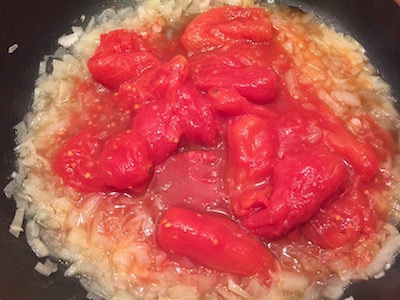 ▪ Increase heat, stir well to dry the sauce then add the tomatoes with all their juice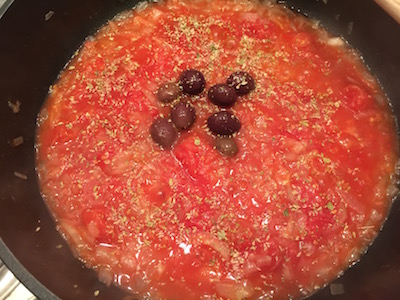 ▪ Now a pinch of salt, a handful of oregano and black olives. Mix thoroughly and cook for 3-4 minutes over medium heat.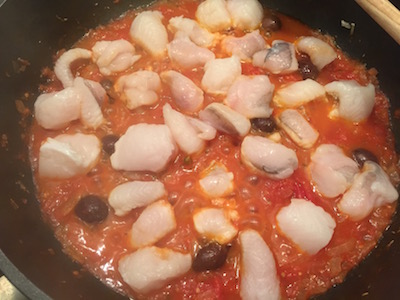 ▪ Add the pieces of monkfish and cook 2-3 minutes on one side, then turn them gently.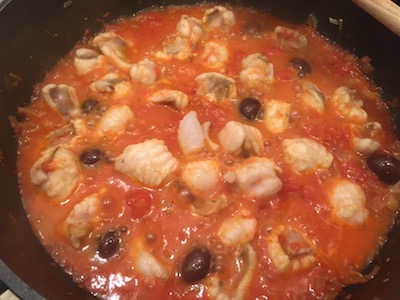 ▪ Lower the heat, cover and simmer for 10 minutes.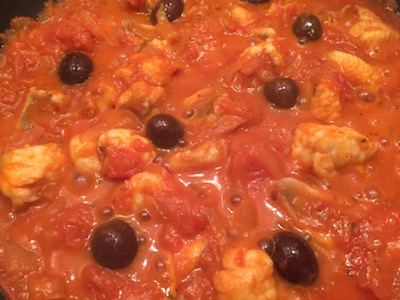 ▪ After the indicated time uncover and cook for another 5 minutes to thicken the sauce and serve with a drizzle of olive oil and good homemade bread.