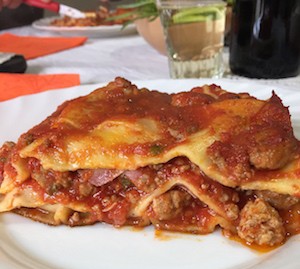 In one of my visits to Martina Franca, my home town, my mother wanted to make Lasagna for me. So I thought of it as an opportunity to record the recipe for my friends 🙂
This recipe is unlike the others that I have shared with you. It has many steps and it is a little time consuming, but the result at the end is absolutely something to die for!!
I took pictures and video of everything she did and here it is for you…
Ingredients:
Pasta 
3 eggs
300 grams of Flour (Possibly "Semola Rimacinata")
15 ml (1tbs) of extra virgin olive oil
Meatballs
350 gr of minced beef
6 Tbs of grated Parmiggiano Reggiano
3 Tbs grated bread
Parsley and Garlic (minced together)
Sauce
3 bottle of tomato passata
150 gr of minced beef
2 Tbs of extra virgin olive oil
1/2 glass of white wine
Lasagna
200 gr Cooked ham chopped in small pieces
200 gr of grated Parmiggiano Reggiano
Preparation
My mother started with the dough for the lasagna sheets. She poured the flour on a kitchen work table, created a well in it, broke the three eggs and started to work the dough. My mother worked for 2-3 minutes, then covered it with a plate and left it to rest for 45 minutes.
Here's a video (4x) of how my mother made the egg lasagna dough:
The meatball paste was made by mixing all the ingredients together. The result must not be too dry nor too wet. In fact, she was ready to add another egg if the mixture was too dry or some more bread if it was too wet. The size of the meatballs were very small – between 1 and 2 cm of diameter.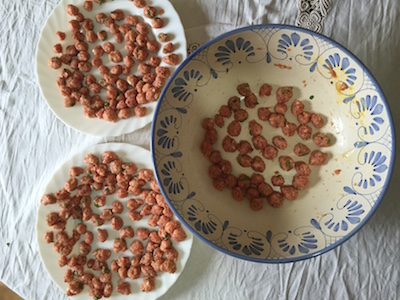 Here's a video (4x) of how the meatball paste was done:

Then she started doing the tomato sauce. My mother prepared a base sauce in advance by stir-frying some minced onions, carrots and celery in olive oil for few minutes. She added the passata and cooked it for a few more minutes.
She put olive oil in a large pan, added the minced meat and stirred for few minutes,. Then, she added the white wine. Before it evaporated completely, she added the tomato sauce and continued to cook it.
Meanwhile, she deep-fried the mini meatballs in vegetable oil. My mother uses sunflower oil.
The meatballs shouldn't be cooked too much because they will get too hard to absorb the tomatoes from the sauce. When she finished frying, she added the meatballs to the sauce and left it to cook at low temperature until she finished with the pasta.
Now here's a video (4x) of how to fry those cute meatballs properly and how to add them to the sauce.

Then she went back to the pasta. After resting for 45 min, the dough was ready to be rolled down. She took small pieces of dough, re-worked them for a few seconds and rolled them with her roll pin.
Want to learn how to make lasagna sheets? Here's a video (4x) of how to do it:

When all the lasagna sheets were ready, she went back to the kitchen and boiled the pasta in lightly salty water for a few seconds until they came to surface. She passed them under cold water and at the end put them to dry on a clean dish cloth to absorb excess water.
Now she was ready to put them all together. (4x)

First, she put enough tomato  to cover the base of a squared baking tray. Then she placed one layer of pasta, sprinkled some cheese, some ham and plenty of tomato sauce. She distributed the meatballs evenly.
She repeated the process for three more layers, finishing with only grated cheese and tomato sauce on top.
She covered it with tin foil and put in the oven at max temperature for a few minutes until it started to boil. Then, she lowered the temperature to 180C and cooked for another 20 min.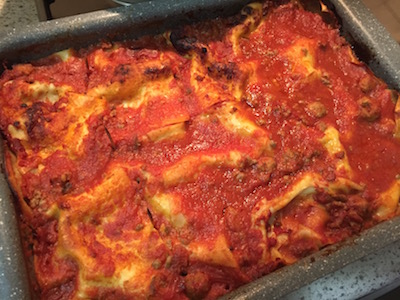 It took 2 hours to prepare but the result was fantastic. A soft but not mushy lasagna without using Besciamella or Cream sauce.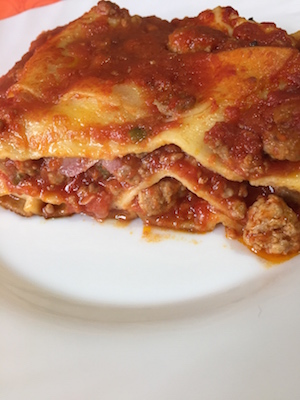 Buon appetito!
PS. If you want to shorten the time needed to make this recipe you could  buy  ready-made lasagna sheets which don't need to be boiled.