Martina Franca, a town full of art and good food, is my hometown. When I'm there, I love to get lost in the small, white streets. Each time I look up at the balconies and decorations, I always discover a new corner I never observed before. All the people that have been here before describing Martina as a dream city and even if I lived here for half of my life, I can't agree more.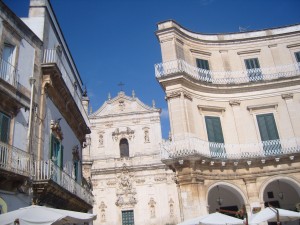 As usual, my mother spoils me with all sorts of good food… "Mangia Mangia" (eat, eat) my father would say as if I don't eat enough when I'm in Dublin! So, I should stuff my belly. But I don't do it just to please my father. I do so because what my mother prepares is always delicious – but sometimes, it is just too much 🙂
Whatever she is cooking is common for her, but I know that some of you will love to know more about her recipes and way of cooking. So I took some pictures and video of other recipes that I think will be nice to share with you, if you like.
How to make Panzerotti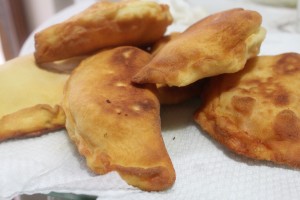 I will share her recipe of Panzerotti, that is the real King of Street Food in Puglia. Honestly, it is a little difficult to share her real recipes because if I ask her "Tell me how you make Panzerotti?" as I do right now while writing this article she answers: "Flour, oil, boiled potato, half yeast, salt but don't forget oil."
Me: Yes, but how much flour? She: Uhm.. 1/2 kilo. It's very difficult to replicate her recipes because she is used to doing it "a occhio" (with the eye). This means that she approximates ingredients just by looking at them and feeling the dough in her hand. But I will try to share her secrets with you.
I have seen "Mamma" make panzerotti a lot of times. She even got me and my brother involved in the preparation since we were children. Yes, this is another recipe that you can enjoy making with your children 🙂
For the dough:
500 gr of flour 00 (If you can find "Rimacinata di grano duro" you can use half and a half)
1/2 beer's yeast (15 gr. this is very common in Italy, here you have to go in a well supplied Italian shop if you don't find it just use 5 gr of dried yeast)
30 gr of Extra Virgin Olive Oil (2 tbs)
5 gr of salt (1 ts)
1 small boiled potato mashed
warm water as needed (not hot)
For the filling:
250 gr of mozzarella fiordilatte (cow's milk)
100 gr tomato passata
200 gr cooked ham
100 gr of mortadella
Oregano
Preparation:
Put the flour on a working board, create a hole in the centre, as if it is a volcano 🙂 Dilute the yeast in a little bit of warm water. Add it to the flour with the olive oil, the salt and the small mashed potato. Work the dough, adding warm water until it's soft and elastic. This will take you about 10 minutes. Put the dough in a bowl. Cover it with a cloth and keep it in a warm place for at least one hour. My mother says leaving it like that for two hours is better. When ready, the dough must have doubled its size.
While the dough is resting, start to cut the following in small cubes: the mozzarella, the ham and the mortadella. Put them all together, add the tomato passata and a bit of oregano. Mix all together and keep it in the fridge until the dough is ready. If the mozzarella is too watery, you can put the mix in a small colander to drain.
After 2 hours, take small pieces from the dough and make balls big as apricots. Start to flatten them first with your hand and then with a rolling pin, creating small disks of 10/15cm of diameter each.
Put a little of the mix on top of the flat dough and fold it on itself creating a half moon pastry. Close all the edges tightly with your fingers. Repeat this process with the remaining dough.
When all the Panzerotti are ready, you can start to fry them in hot oil at 180C for roughly 1 min for each side or until golden.
If you are left with some dough, just fry it flat to make some "Pizzella" which are very delicious too!!
Enjoy and buon appetito!