No-bake chocolate Christmas log
Loading…
This chocolate Christmas log is quick to make and can be prepared in advance. In fact, it does not require baking and can be stored in the freezer for several days. A clever and convenient recipe, don't you think?
Ingredients
Ladyfinger biscuits 160 gr. (or other biscuits as you like)
Philadelphia or other cream cheese 165 gr.
icing sugar 50 gr.
unsweetened cocoa powder 35 gr.
For the Cream:
whipping cream 500 gr.
condensed milk 160 gr.
honey 3 teaspoons
To decorate:
fresh fruit such as raspberries, strawberries, red currants
unsweetened cocoa powder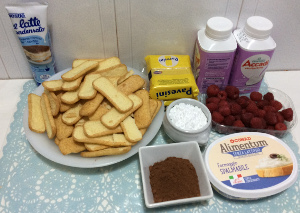 Tools
Bowl, electric whisk, baking paper.
Preparation
Whip the cream until stiff using the electric whisk. Add the condensed milk and continue blending. Finally blend in the honey.

Let the cream mixture rest for a few hours in the refrigerator before using it. Meanwhile, prepare the biscuit dough.
Preparation of biscuit dough:
Chop the biscuits in a blender, then add the icing sugar, cocoa powder, cream cheese, and mix together to form a dough.

Place the dough between two sheets of baking paper, sprinkling some cocoa on the surface of the paper to prevent the dough from sticking to the paper.
Flatten the dough with a rolling pin, until it is about ½-centimeter thick and has a rectangular in shape.
Spread the cream in a layer to cover the dough, keeping some aside for decoration, then roll the dough up into a long log.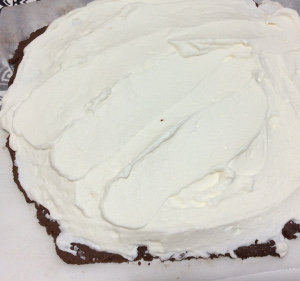 Close the ends of the paper like a salame and put it in the fridge for a couple of hours, until it is firm.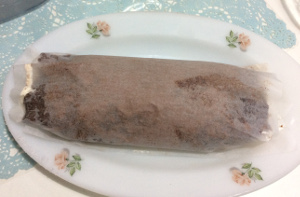 Take the log out of the fridge, remove the paper, and place it on a large plate. Cut a short piece off one end at an angle and place it sideways against the larger piece, as if it was a branch (see photo).
Sprinkle with cocoa powder, and decorate with the reserved cream and fruit. Let it rest again in the fridge for a couple of hours before serving.
Enjoy!!!