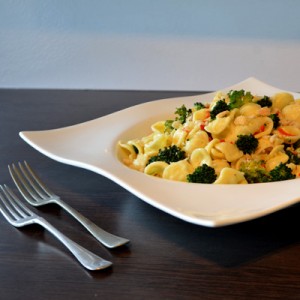 Orecchiette with "Cime di Rapa" is one of the most original and famous recipes from Puglia, the Heel of Italy.
Orecchiette is a handmade shape of pasta typical in Puglia, which my mother makes every Sunday for our enjoyment.
The perfect combinations with this shape of pasta are:
fresh cime di rapa that can be be boiled with the orecchiette or stewed and then add to them or
a rich tomato and meat sauce.
Here we present a variation to the original recipe using broccoli which is easier to find and takes very little effort to prepare.
Ingredients:
Serve and Enjoy!
If you want to make it even easier, try our hookup hotshot full which is prepared following the original recipe as my mother does 😉