In North of Italy, you don't eat as much pasta as we do in the South.
I used to live in Verona, just beside Lake Garda and the main first course was risotto.
Making a good risotto is easy if you know how to do it. So I thought that probably, you would like to learn how to make it yourself properly.
First of all, if you want to make risotto, you have to find the right rice. The three varieties that you have to look for are, in order: Carnaroli, Arborio or Vialone Nano. These are the kings of risotto rice, based on where you came from. If you are from the north of Italy, you will have your favourite. In Verona, for example, only Vialone Nano variety is used . But I like all of them. 🙂
Here today, I will make the simplest of all- that is the basis for all the other risottos. So you learn the basics and then you can make your own by adding vegetables, meat, herbs and/or spices as you please.
Don't be fooled by its simplicity because it's very tasty yet delicate at the same time.
Risotto al Parmigiano – Parmesan Risotto
Ingredients for 4 people
400 gr. Rice Carnaroli, Arborio or Vialone Nano
60 gr. Butter
100 gr. of Parmigiano Reggiano
1 small white onion
1 tbs Extra Virgin Olive Oil
1 lt of meat broth – you can use stock cubes (meat or vegetable) for a quick fix 😉
Salt to taste
Preparation
Chop the onions finely.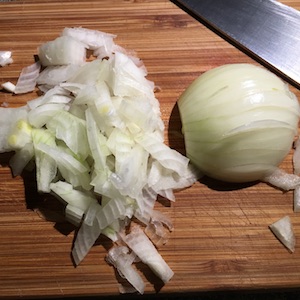 Put 40 grams of butter in a saucepan. Heat it on the stove until the butter begins to melt.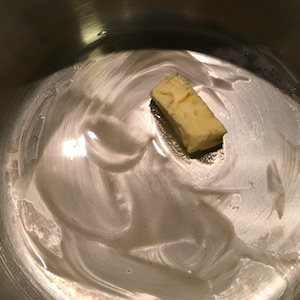 When melted, add the onion and a tablespoon of oil.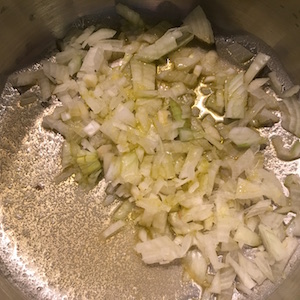 Sweat the onions over low heat until they become soft. Add the rice. Set the stove on high heat and toast the rice.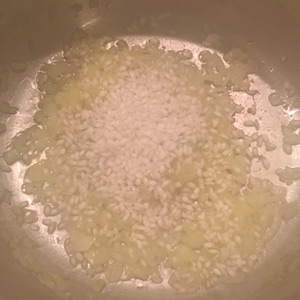 Pour a ladle of hot broth, making sure to stir constantly with a wooden spoon.
When the rice has already absorbed most of the broth, pour another ladle. Continue doing this until the rice is cooked. before turning the stove off , make sure that the rice is all dried up.
Stir the rice while adding the remaining butter (20 g) . Add the grated Parmigiano Reggiano.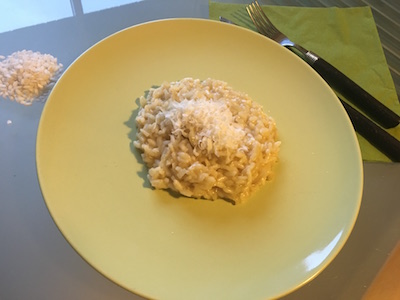 Let it rest for a minute and then serve the risotto al parmigiano.
Buon appetito!!!
Now you can eat this as it is or try adding your favourite vegetables or meat. Let us know how it goes by writing in the comments box below. Grazie!