I love to cook good, nutritious food. Probably it's because my mother allowed us to help her out when cooking. Like other children, we loved to see how things are getting done and try them out ourselves – mixing ingredients, rolling things in flour – even if we become messy afterwards – like little Anita here: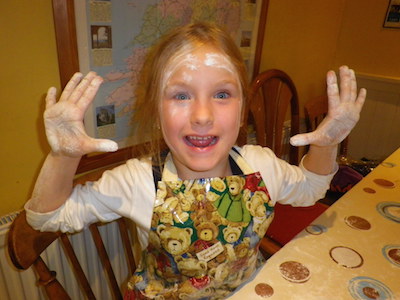 Isn't she a darling? 🙂
So this week, I'm going to give you Parmigiana di Melanzane – a recipe that your kids will love preparing with you. It's healthy and tasty. It might take several stages to make, but the steps are quite easy. Let's once again thank Elisa. Grazie, Elisa!!!
Parmigiana di Melanzane
Ingredients:
2 aubergines( eggplants)
2/3 eggs, beaten
flour
salt
250 gr mozzarella cheese
Parmesan cheese
Procedure:
Stage 1 ( a few hours before frying)
1. Slice the aubergines.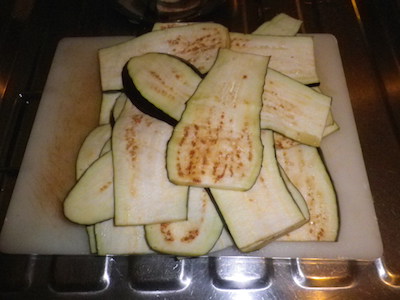 2. Salt them and put them under a heavy pot to press the water out.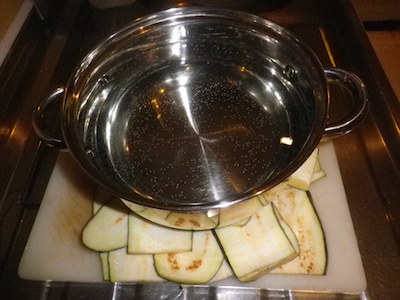 Stage 2 (frying)
1. Cover each aubergine slice with flour. Your child can do that easily.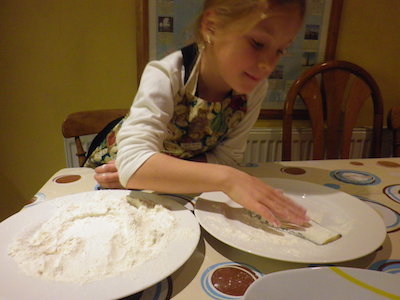 Here's what they'll look  like before frying.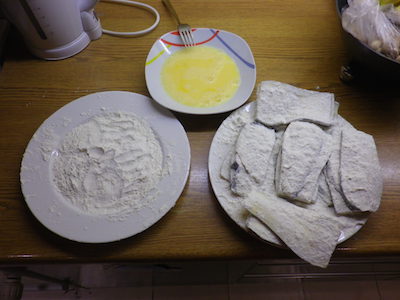 3. Put some olive oil in a pan. Heat it up and fry the sliced aubergines until golden brown.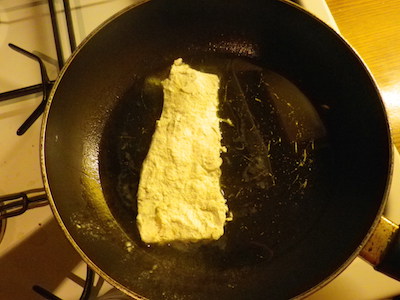 4. When done, put them on a paper towel to drain excess oil.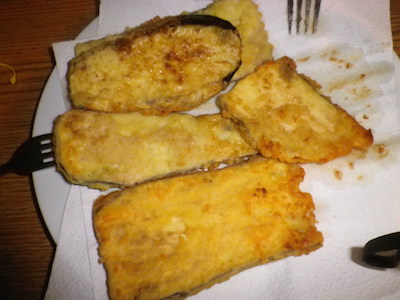 Stage 3 (Baking)
1.  Pour some tomato sauce at the bottom of the tray. Create the first layer with aubergines.
2. Top it with mozzarella, Parmesan cheese and more sauce.
2. Then add a second layer of aubergines, more sauce and more Parmesan.
3. Bake at 180 degrees ( gas mark 7/8) for at least half an hour.
Serve and enjoy!!!
Buon appetito!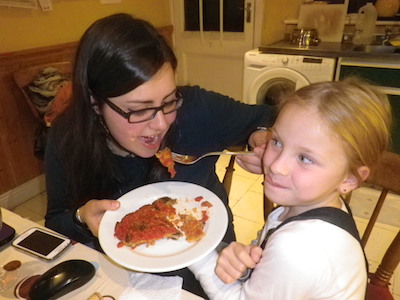 Suggestions:
1.  Change the oil after frying every 4/6 slices of aubergines as bits of flour and eggs may stay in the pan.
2. Cover the tray with tin foil for half the time its in the oven.
3. Grill at the end if you like some crust on the top.
Try it and let me know how it goes by writing in the comments box below. Thanks! 🙂