This week you will find a traditional Italian vegetarian recipe made simple thanks to red pesto.
Summertime offers a variety of fresh vegetables, like courgettes and aubergines. Since they are versatile, you can decide to prepare your parmigiana with just one of them or both.
You will find this recipe an healthy and light dish but still full of flavour, thanks to red pesto.
The trick is cooking vegetables separately first in the oven (this also speeds up the prep time).
Why not prepare this quick, vegetarian and seasonal recipe today??
Time: 25 minutes
Ingredients for 4 people:
6 courgettes (or 2 large aubergines)
150 g of mozzarella or scamorza cheese
6 tablespoons of Red Pesto
6 cherry tomatoes
2 tablespoons of Extra Virgin Olive Oil "Il Vero"
6 tablespoons of grated Pecorino or Parmigiano cheese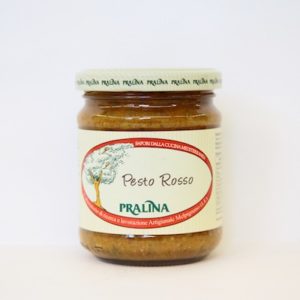 Equipment:
1 baking tray, parchment paper, 1 small mixing bowl, 1 baking dish
Procedure:
Pre-heat the oven to 200° C
Wash courgettes thoroughly, cut off the ends and cut into thin slices lengthwise.
Line baking tray with parchment paper and lay down courgettes in one layer.
Put some Extra Virgin Olive Oil on the courgettes.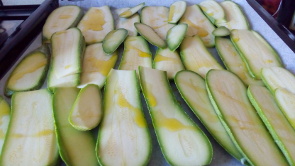 Bake courgettes at 200° C for 5 minutes, take baking tray out of the oven, turn courgettes, and bake for 5 minutes.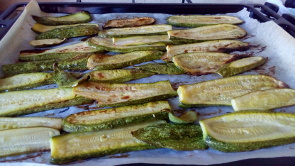 Meanwhile, chop mozzarella into small cubes.
Mince 6 cherry tomatoes and put into a small bowl (you can use a food processor if you want), then mix with 6 tablespoons of Red Pesto.
Spread 1 tablespoon olive oil on a baking dish, add 1/3 of the Red Pesto and cherry tomato mix, spread,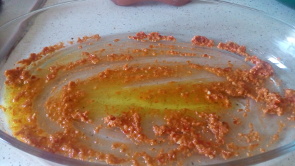 add one layer of courgettes, another layer with 1/3 of the Red Pesto and tomato mix, then a layer of mozzarella, then top with grated pecorino cheese.
Add a second layer of courgettes, the remaining 1/3 of Red Pesto tomato mix, and the remaining mozzarella and grated cheese.
Place in oven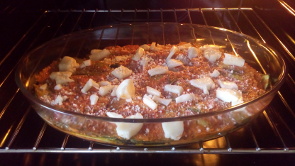 and bake at 200° C for 10-15 minutes, until the cheese is melted.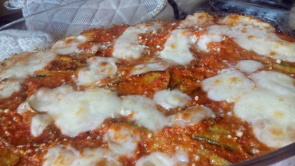 Cut into squares and serve.
*There is no added salt in this recipe because the ingredients are already tasty.