Pasta all'arrabbiata with roasted vegetables
Loading…
In less than 15 minutes you will get a simple but delicious pasta dish. The soft and full-bodied sauce is packed with flavour, but since it is made almost completely of vegetables it is at the same time light and healthy.
For 2 people
Ingredients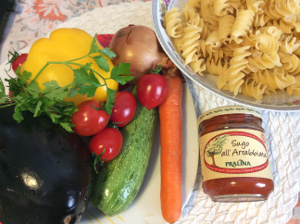 pasta 160 gr (Gragnano fusilloni or other short pasta as you like)
Pralina Arrabbiata sauce 1 jar of 200 gr.
Fresh cherry tomatoes 6
1/2 pepper
onion ½
courgette 1
aubergine 1 small (or half large)
extra virgin olive oil 1 tbsp
aromatic herbs to taste (parsley, oregano, basil, etc)
salt and pepper to taste.
Equipment
Chopping board, knife, non-stick pan, 1 tablespoon, 1 large saucepan, 1 baking tray.
Preparation
Pre-heat the oven to about 200 ° C.
Clean the vegetables and dice them into small cubes, mirepoix cut (see details on our blog for the mirepoix cut), except the onions which must be cut into thin rings. Mince the herbs.
Put the oil in a bowl, add the herbs and the vegetables, and mix well with a spoon. Do not add salt – this will keep the vegetables crisp and their colors bright.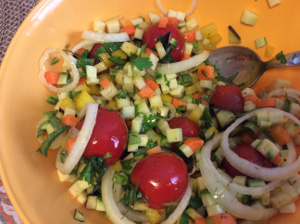 Line a baking sheet with parchment paper and spread the vegetables over it in a single layer.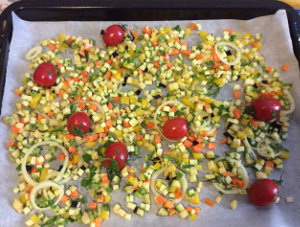 Bake at 200 ° C for about 5 minutes, until vegetables become lightly browned.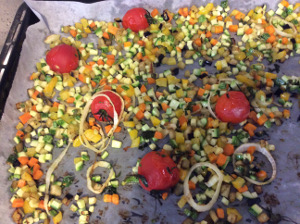 Remove from oven, add salt and pepper to taste, and mix well.
Meanwhile cook the pasta in boiling salted water.
In a non-stick pan, heat the Arrabbiata sauce and add half of the vegetables.
https://cookwithgusto.com/best-european-dating-sites/
Drain the pasta al dente (one minute before the cooking time indicated on the package), keeping 1 cup of the cooking water aside. Mix the pasta in a pan with the arrabbiata sauce and the roasted vegetables, adding the reserved water as needed if the sauce becomes too thick.
Decorate with the remaining diced vegetables and a drizzle of extra virgin olive oil.
This wonderful pasta is ready to be enjoyed.
If you don't like the spicy taste of the arrabbiata sauce, you can substitute with young speed dating or strong ricotta sauce. Short pasta shapes such as penne, fusilli, orecchiette, trofie, or strozzapreti are recommended for this recipe. The secret of this recipe is the freshness of the vegetables. You can use a variety of different vegetables, such as green beans, peas, broccoli, or asparagus – choose whichever are in season. As an alternative, you can stir-fry the vegetables in a large non-stick pan at medium-high heat.