Pasta with Brussels sprouts, leeks and mozzarella
Loading…
This recipe has few ingredients but a lot of flavour, thanks to some simple cooking tricks. It is a healthy and different way to enjoy Brussels sprouts.
Serves 2
Ingredients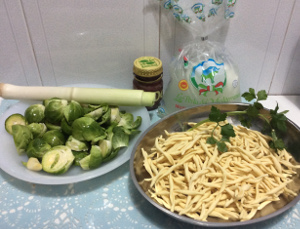 Pasta gr. 200 (we have used strozzapreti, you can use other pasta shapes as you like)
Anchovy in oil 1
Leek 1
Brussels sprouts gr. 200
Buffalo mozzarella gr. 150 (or other delicate cheese as you like)
Extra virgin olive oil 2 tablespoon
Salt
Pepper
Parsley 1 tuft
Equipment
Non-stick frying pan, chopping board, knife, large sauce-pan.
Preparation
Cut the leek into slices.
Clean the Brussels sprouts thoroughly, remove the stem, wash and cut each in half.
Wash the parsley and chop with a knife.
In a pan with oil gently cook anchovies and leek for a few minutes.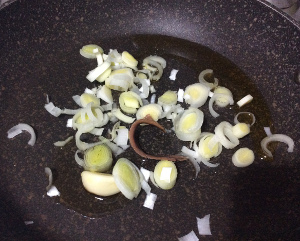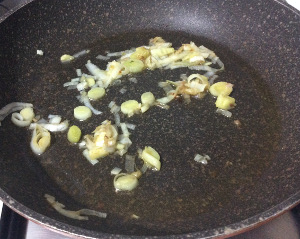 Meanwhile, boil the Brussels sprouts in salted water for 5 minutes. (*Do not throw away the cooking water from the Brussel sprouts, because it will be used to cook the pasta).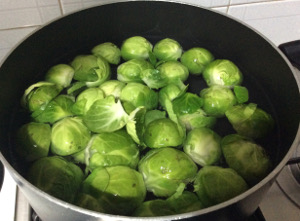 Remove the Brussels sprouts with a slotted spoon and place them directly into the pan, leaving a few sprouts and leaves in the pot.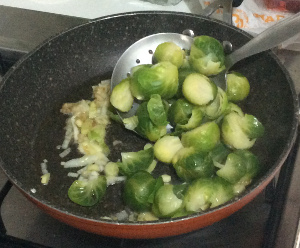 Adjust the vegetable sauce with a pinch of salt and a pinch of pepper, then cook for 10 minutes.
Cut the mozzarella into small pieces.
Cook the pasta in the same cooking water as the Brussels sprouts and set aside a cup of cooking water.
Drain the pasta one minute before the cooking time indicated on the package.  Pour the drained pasta into the pan with the sauce, add a few tablespoons of the reserved pasta water, and continue cooking. Add more liquid if it seems dry. Add the chopped parsley, mix, and turn off the heat.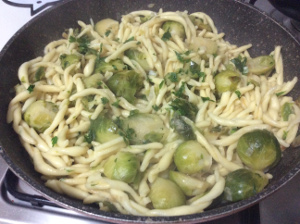 Serve and add the mozzarella cut into small pieces directly on the plate.
Tips
If you are a vegetarian, you can use some chopped capers to give flavor instead of anchovies. Instead of mozzarella, you can use grated Parmigiano Reggiano or Grana Padano cheese.