Pasta with cod, white wine and tomato sauce
Loading…
You will fall in love with this recipe starting from the first bite. This pasta is a quick and easy seafood dish you can prepare with few quality ingredients.
Ingredients for 2 people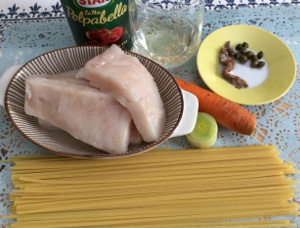 Pasta 250 gr (we used linguine, spaghetti is also fine)
Cod fillets (fresh or frozen) 250 gr
Carrot 1
Onion 1/2 or a piece of leek
White wine 1 glass
Tomato pulp 300 ml
Capers 1 tsp
Desalted anchovies 2
Extra virgin olive oil 2 tbsp
Salt and pepper
Chopped parsley 1 tbsp
Equipment
Chopping board, knife, non-stick pan, 1 tablespoon.
Preparation
Peel the onion and carrot and chop finely together.
Lightly brown the vegetables with two tablespoons of olive oil, then add anchovies and capers in a large pan and cook until the anchovies are melted. It will take just a few minutes.
Add cod fillets, brown on both sides for a few moments, then blend with the white wine. Break the fish into small pieces using a fork, to obtain a homogeneous but still chunky sauce.
Once the alcohol has evaporated, add the tomato pulp, a pinch of salt and a pinch of pepper, then cook for 20 minutes. Taste the sauce before adding salt, because the capers and anchovies are already salty.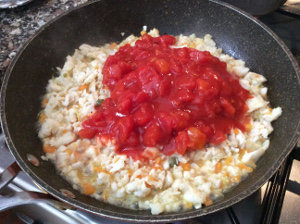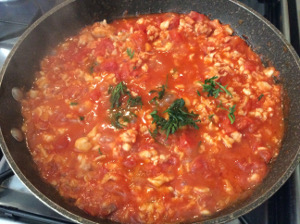 Cook the pasta in plenty of salted water according to the instructions on the package, drain and mix for 2-3 minutes with the sauce in the pan. Top with the parsley.
Serve immediately and pair with a glass of crisp white wine.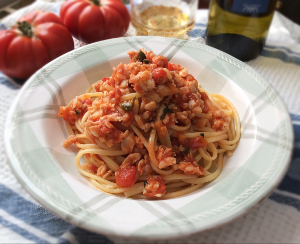 Tips
You can prepare this sauce using other varieties of fish, such as sea bass, sea bream, or sole. You can prepare the sauce in advance and keep it in the refrigerator (well covered) for 2-3 days, until you are ready to use it. The sauce should be heated in the microwave or in a pan before use.