Pasta with courgettes paté, toasted almonds, and fresh basil
Loading…
Pasta with courgettes paté, toasted almonds, and fresh basil is a healthy dish, ideal for a quick and light lunch. If you are looking for a genuine and vegetarian first course, this recipe is perfect for you.
Ingredients for 2 people
pasta 200 gr.
roasted courgettes paté 1 jar
grated Parmigiano cheese 20 gr., optional (or aged Pecorino)
almonds 25 gr.
basil leaves 9 (or mint or parsley)
extra virgin olive oil
salt and pepper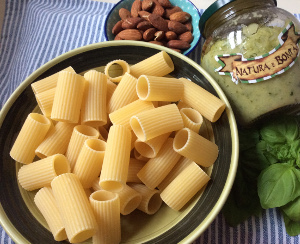 Equipment
1 medium saucepan, 1 non-stick pan, 1 knife, 1 chopping board.
Preparation
Bring the water to a boil, then add 30 gr of coarse sea salt, and pasta.
While the pasta is cooking, chop the almonds coarsely with a knife and tear the basil into small pieces with your hands.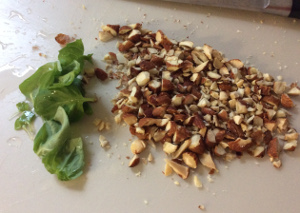 Put a tablespoon of oil in a non-stick pan, add the almonds (set a small amount aside for decoration), the basil, and brown for about 15-30 seconds, mixing quickly.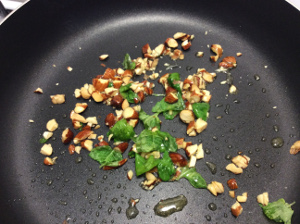 Add the courgettes paté, stir, and turn off the heat.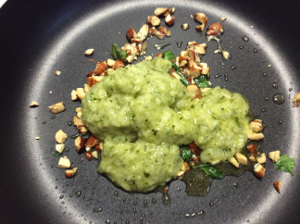 Drain the pasta when it is cooked al dente, retaining about 1/2 cup of the cooking water. Add the cooked pasta to the pan with the zucchini pâté, toasted almonds, and basil. Stir gently, adding a bit of the cooking water if necessary, until the pasta and pesto are well mixed.
Top with a drizzle of olive oil, season with freshly ground pepper and garnish with the remaining toasted almonds. If you like, sprinkle a generous amount of grated Parmesan or Pecorino cheese.
Your pasta with zucchini, almond and basil pesto is ready. Enjoy!
Tips
You can use various pasta shapes as you like, such as linguine, penne, and trofie. Instead of almonds you can use pine nuts. If you like green olive tapenade you can use it instead of courgettes paté, and add a few ripe cherry tomatoes cut in two halves (to add colour and enrich the taste).